The Farmers' Almanac is Predicting Cool Temperatures And Normal Precipitation This Winter In Oregon
After a hot summer in the Pacific Northwest, many of us are eagerly awaiting the arrival of Old Man Winter. Each year, the Farmers' Almanac winter weather forecast is our guide, with an impressive accuracy rate that helps us map out our seasonal activities. So, what are the folks at Farmers' Almanac predicting for this winter in Oregon? While much of the country has been warned to "get ready to 'Shake, shiver, and shovel,'" here in the PNW, winter is looking to be average in terms of temps and precipitation. In other words, while you may not be able to retire the rain gear, the temperatures should be favorable for our favorite winter-time recreation. And guess what? A little rain in Oregon has never kept inside!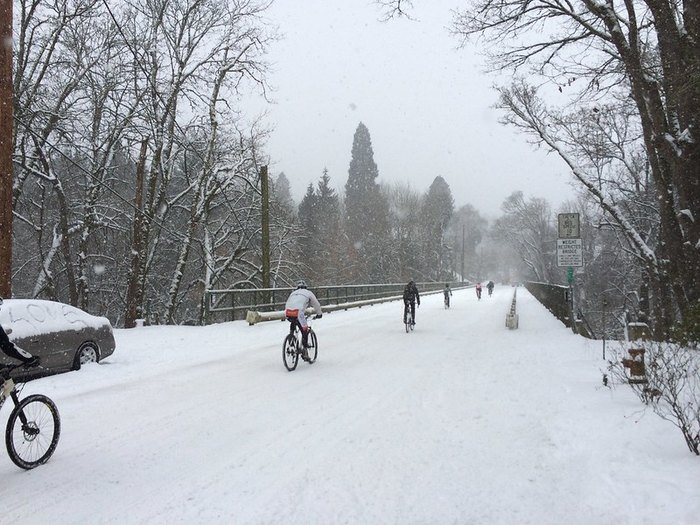 Of course, the Farmers' Almanac forecast for Oregon is all just an educated guess, and absolutely subject to change. However, we'll still be doing our happy dance this winter; but regardless, you'll still find us enjoying Oregon's Great Outdoors all winter long!
With dry, warmer temperatures this winter in Oregon, put some of these amazing hikes on your to-do list!
Address: Jonsrud Viewpoint, 15652 Bluff Rd, Sandy, OR 97055, USA
Address: Haystack Rock, Cannon Beach, OR 97145, USA
Address: Emigrant Springs State Heritage Area, 65068 Old Oregon Trail, Meacham, OR 97859, USA
Farmers' Almanac winter weather forecast
August 25, 2022
What's some fun winter recreation in Oregon?
While it's tempting to hibernate during the coldest months of the year, the sublime beauty of Oregon during the winter is not to be missed — especially in terms of outdoor recreation. So instead of cuddling up and staying indoors, we challenge you to bundle up and head outdoors… to Bend, Oregon! Outdoor adventures aplenty can be found in this region of the state, with the wintertime recreation especially epic. If you're into skiing, Mt. Bachelor in Bend is the sixth-largest ski resort in the U.S. and a destination for skiers from across the continent! Mt. Bachelor's amazing peaks are picture-perfect for skiers of all ages and skill levels. But it's not all skiing here; Mt. Bachelor also offers unique winter experiences like sled dog rides and snowshoe tours! To take your winter recreation to the next level, however, you'll want to head to Wanderlust Tours. Take a winter sunset trek, snowshoeing through magical, old-growth forests that seem almost otherworldly.
Of course, nothing beats a good, old-fashioned winter hike in Oregon; some of our favorite seasonal treks in the Beaver State include the Multnomah-Wahkeena Loop Hike, the Wildwood Trail at Forest Park in Portland, the hike to Tumalo Falls, the Mirror Lake Trail, the Trail of Ten Falls, and, of course, any of the trails at Crater Lake National Park!
Address: Jonsrud Viewpoint, 15652 Bluff Rd, Sandy, OR 97055, USA
Address: Haystack Rock, Cannon Beach, OR 97145, USA
Address: Emigrant Springs State Heritage Area, 65068 Old Oregon Trail, Meacham, OR 97859, USA