You May Not Want To Swim In These 7 Ohio Lakes This Summer Due To A Dangerous Discovery
Several bodies of water in Ohio have been placed under health advisory in the past due to high and potentially dangerous levels of bacteria and toxic algae.
Algae blooms are large formations of algae that can cover the surface of a body of water. Microcystin is a toxin produced by algae, and is harmful to humans and animals. Any concentration of microcystin greater than six parts per billion in the water results in a public health advisory. If the levels are higher than 20 ppb, the health department advises that people avoid any contact with the affected water.
Children, elderly individuals, and women who are nursing or pregnant are at particular risk from the contaminated water. People with weakened immune systems or those who are ill are also cautioned to avoid the water.
Generally, bacteria contamination prompts a lower advisory level than toxic algae contamination. Be sure that you check on the conditions before you head to these Ohio lakes.
Below are the bodies of water that have been placed under a health advisory due to contamination. Where available, the area where the contaminated samples were pulled is listed after the name of the body of water.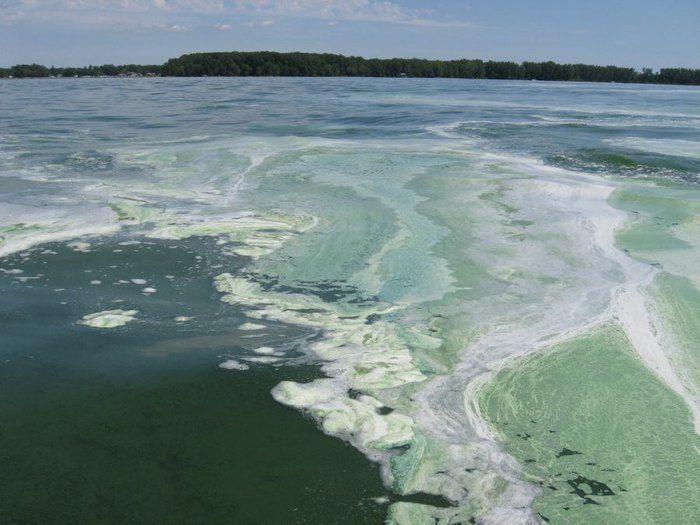 Once officials pull two water samples from a body of water that test under six ppb, the health advisory on that body of water will be lifted. Algae levels and advisories fluctuate throughout the summer, so the information above is subject to change as new water samples are taken. Please follow all signs and directions at local lakes and rivers, and stay up to date on water advisories in your area.
OnlyInYourState may earn compensation through affiliate links in this article.
Ohio Lakes
July 05, 2022
What are the best waterfall hikes in Ohio?
The best waterfall hikes in Ohio are definitely some of the most fun destinations to go to in the summer. Charleston Falls Loop Trail, found in Charleston Falls Preserve, is a nice choice, as it's not too long and still features a big payoff! You'll only have to walk for 1.8 miles to see the lovely waterfall. If you're hoping for a bigger water feature, you'll love Brandywine Falls in Cuyahoga Valley National Park. The waterfall is 65 feet tall!
Which state parks should I visit in Ohio?
While you can easily look up the most popular parks in the state, there are lots of underrated state parks in Ohio as well! If you're a fan of being waterfront, head to Alum Creek State Park in Delaware, Ohio. The reservoir has beautiful blue water and is perfect if you want to take a dip on a hot day. For a fun family-friendly day, check out Paint Creek State Park in Bainbridge. The kids will love the creek and you can play fun games like miniature golf here as well.
Are there any good swimming holes in Ohio?
Yes, there are lots of good swimming holes in Ohio! Ludlow Creek is an especially cool swimming hole, as it's combined with a waterfall and you can swim right underneath it. You can also swing on a rope and let go to plunge into the water. Looking for a really relaxing getaway? Dundee Falls is a peaceful weekend trip to take where you can kick back and feel totally surrounded by nature.