This Map Shows The Shortest Route To 7 Of Ohio's Most Incredible Caves
When it comes to aboveground caves and colorful caverns, Ohio is full of several rock shelters to explore that will make you feel like Indian Jones himself. Since The Buckeye State is practically made for explorers, we wanted to map out the best route to some of the best caves in Ohio. From the popular caverns to the little-known caves, this trip features some of Ohio's best caves that are guaranteed to bring out your adventurous side. The trip is designed in a loop, so simply start at the cave closest to you: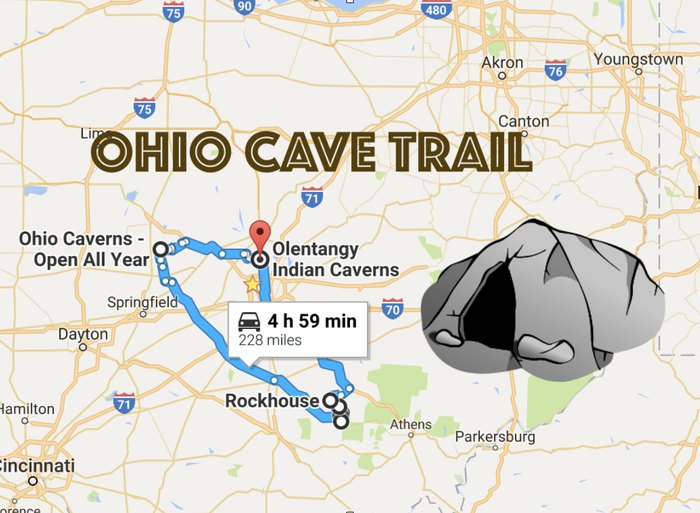 The total trip to the best caves in Ohio takes about five hours of driving time. We recommend taking the trip over a weekend. Explore the Hocking Hills area caves in one day and explore the Ohio Caverns and Olentangy Indian Caverns on the other day. You can view a Google Map of the trip in a operate tab or window to plan out your trip ahead of time. Now, who's ready for a subterranean adventure in the Buckeye State?
7. Whispering Cave (Hocking Hills State Park)
With massive sandstone cliffs, a new cave, a towering waterfall and a swinging bridge, the brand new Hemlock Bridge Trail to Whispering Cave at Hocking Hills State Park is an Ohio adventure you simply have to take this summer. The Hemlock Bridge Trail is a 1.5-mile trail that leads to Whispering Cave, a 300 ft.-wide cavern many past visitors have yet to explore. (The trail also features a 105-ft. waterfall, towering sandstone cliffs Hocking Hills explorers know and love and a swinging bridge that will bring out your sense of adventure.) The trailhead is located at the entrance of the former dining lodge parking lot, which you can park at during daylight hours. This spot is nestled away in Logan, OH 43138.
Have you explored any of the best caves in Ohio before? If so, please share your adventures with us in the comments! We'd also love to hear your thoughts on other incredible caves that you think would fit well with this road trip.
For more nature-related Ohio road trips, check out our previous articles: The Ultimate Ohio Waterfalls Road Trip Is Right Here – And You'll Want To Do It and This Natural Wonders Road Trip Will Show You Ohio Like You've Never Seen It Before.
OnlyInYourState may earn compensation through affiliate links in this article.
Best Caves In Ohio
July 19, 2020
What are the most beautiful hikes in Ohio?
Ohio's cave hikes are stunningly beautiful, but there are a few other places worth checking out. The Cleveland Metroparks up North is appropriately nicknamed the "Emerald Necklace," and the Cuyahoga Valley National Park in Summit County astounds visitors as the only national park in Ohio. There's so much to love about neighborhood parks, too!
What are the best waterfall hikes in Ohio?
The Buckeye State is astonishingly full of natural splendor. There are a number of waterfalls in Ohio, from the southernmost reaches of our massive state to the shores of Lake Erie up north. Hayden Falls, Brandywine Falls, and Lanterman's Falls stun visitors to this day!
Does Ohio have any natural wonders?
The very landscape of Ohio is a natural wonder! The northern portions of the state are notably flat, a natural feature caused by heavy glaciation throughout the Pleistocene. Essentially, the most recent Ice Age left the region covered in heavy (and constantly moving) glaciers that flattened the local landscape. Some of the finest examples of glacial striation in the world can be found in Ohio!