10 Unbelievable Northern California Waterfalls Hiding In Plain Sight... No Hiking Required
Isn't Northern California just the most amazing place? As much as we love to hike into the depths of a cool forest for a hidden treasure like this, there's just something about driving up and walking just a few steps for the prize, right? If you're not into hiking for miles and miles, these falls below are an easy-as-pie hop, skip and jump from the road. Seriously – they're almost too easy! Just in case you're not up for hiking for any reason, we've put together a few of our favorite no-hike waterfalls in NorCal that require little to no exertion on your part to get there.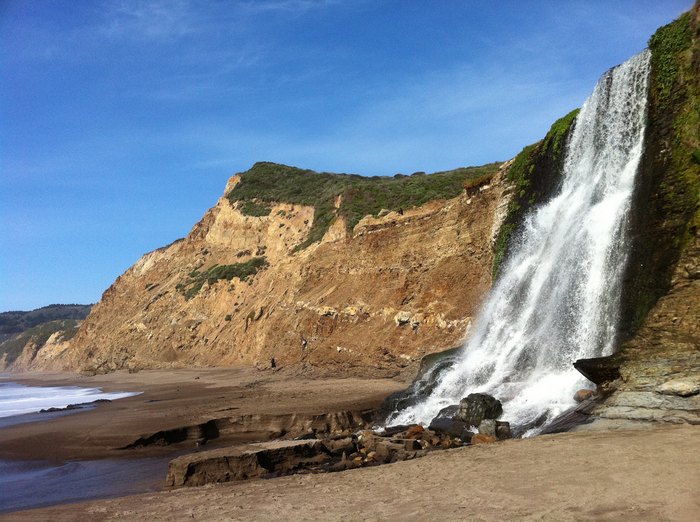 1. Kinner Falls
This oasis is a narrow waterfall, and it drops 139 feet into the Pitt River below. Only about 90 minutes from the city of Redding, it's a lovely and easily accessible waterfall.
2. Lion Slide Falls
This one is a nice, short walk from Big Bend Road; it's far from a "hike". We do not recommend using a kayak to enjoy Lion Slide at Hatchet Falls, but this is still a pretty cool way to beat the heat during the warmest months. Use your kayak to enjoy it from the bottom of the falls, not the top!
3. Little Hawaii Falls
Located in Manton, this lush waterfall may not be the sole king when it comes to water flow, but it always wows us with its lush vegetation and beautiful, emerald moss covering every stone. It's a little slice of Hawaiian paradise right in our own Northern California backyards.
4. Lost Creek Falls
Summer is the perfect time to head over here, and a selfie is a must-do. How else can you make your friends jealous? You can find this exquisite spot in Hat Creek, which is about 90 minutes from the city of Redding. This is among our very favorite places to visit in Northern California.
5. McCloud River Lower Falls
This one is one of the three legendary McCloud Falls, and this 12-foot plunge is a doozy! But, if you're not into jumping in, you can sunbathe on the large flat rocks and just listen to the roar of the falls. Better yet, enjoy the campgrounds close by.
6. Mossbrae Falls
If you find yourself in Dunsmuir, then you need to add this waterfall in Northern California to your must-see list. Mossbrae Falls presents over 50 feet of cascading water year-round. The Sacramento River runs below, and it's the sweetest spot for some family photos and lifelong memories.
7. Bassi Falls
This one's a beauty! Full disclosure here, there's an easy walk from Ice House Road in Pollock Pines to this spot, but some like to take the two-to-three mile walk from the campground to access it. We're more interested in the easy walk from the road on this one, personally. Minimum effort, maximum reward!
8. Sempervirens Falls
You can find this slice of heaven in the Big Basin National Park. Take the well-marked spur trail downhill, cross the road, and walk down a few steps to the viewing platform. Beside the platform, Sempervirens Creek falls over a 10-foot-high ledge and into a deep pool in a little sanctuary grotto.
9. Basin Falls
Uvas Canyon County Park in Morgan Hill is home to this 20-foot cascading waterfall. An easy trek to this place is just what the doctor ordered for the perfect day – oh, and a lazy day, at that!
10. Alamere Falls
This 40-foot waterfall can be found on the bluffs of Point Reyes. One of the most amazing beach waterfalls in Northern California, it's a no-brainer of a bucket list trip. When are you going?
Once you've tackled these no-hike waterfalls in NorCal, take a peek at these 15 Northern California waterfalls that require a longer hike to access — but are worth it! Put a few down on your calendar. Life is short – go for it! You will never regret it adventuring while you can.
OnlyInYourState may earn compensation through affiliate links in this article.
More to Explore
Waterfalls In Northern California
What are some interesting natural wonders in Northern California?  
Northern California is filled to the brim with fascinating places to explore. Our most famous natural wonder is, of course, the legendary Redwood Forest. It's not every day you encounter tress so enormous that you can literally drive a car through some of them. The McCloud River is home to plenty of stunning natural waterfalls that are perfect for photographers and nature lovers alike.  
Where can I find the best hidden gems in Northern California?  
Other than the most popular attractions, there are plenty of little gems in NorCal you won't find anywhere else. For example, have you ever been to Fern Canyon, at Prairie Creek Redwood State Park? It's a canyon covered head to toe in lush, green ferns, and it's a sight to behold, often overlooked by folks hoping to catch a glimpse of the Redwood trees instead. If you ever find yourself nearby the Lost Sierra region, make sure to pay a visit to the Trees of Mystery and the Sky Trail. You won't regret it! Discover a hidden ice cave at Lava Beds National Monument, and if you need more, take a look at this article for some of our favorite NorCal hidden gems. 
What are some amazing places to visit in Northern California? 
NorCal is honestly a nature lover's dream come true. It doesn't get a whole lot more incredible than our amazing beaches (and ocean sunsets), forests, waterfalls, and more. We recommend a visit to Burney Falls, which President Roosevelt once called "The Eighth Wonder of the World," and understandably so. It's an incredible 129-foot-tall waterfall tucked into the wilderness nearby Redding. Lake Tahoe is one of the most famous places to visit in NorCal, and for good reason – it's so enormous that you might forget you're at a lake and not the ocean. It's the second deepest lake in the United States, and it's so clear that you can see 60 feet down before the water begins to get a little murky.  
Related Articles
Explore Northern California