The Clearest Lake In Northern California Is Almost Too Beautiful To Be Real
There's certainly no shortage of beautiful lakes in Northern California. If you love exploring our region's natural wonders, then chances are you've already visited places like Shasta Lake and Lake Tahoe. However, there are plenty of lesser-known lakes tucked away from the public eye. These lakes have plenty to offer and the one featured here could even be considered the clearest lake in California! You'll be glad you ventured off the beaten path to find this hidden gem. Boasting crystal clear waters, this lake is an actual paradise that you'll have to see to believe.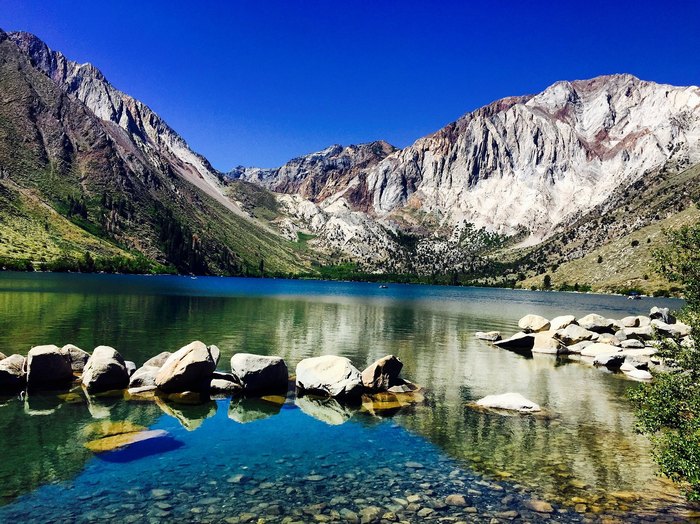 Follow along on this lovely hike right up to the shores of Convict Lake:
Did you know this crystal clear lake existed? This is one of those landscapes that just never get old. Make it your mission to visit a handful of beautiful lakes this summer. Check out our list of the most beautiful lakes in Northern California for some inspiration!
OnlyInYourState may earn compensation through affiliate links in this article.
More to Explore
Clearest Lake in California
What is the clearest lake in California? 
California is an absolutely enormous state; it's so large that typically, we split it into northern and southern halves, which makes things easier. That being said, there are so many amazing lakes all over the state that are worth mentioning! Some of the clearest lakes in California include lakes like:  
Convict Lake – This gorgeous, sparkling-clear lake is located in Northern California and looks like something out of a fairy tale. 

 

Castaic Lake – This Southern California gem is a treat for anyone who's never seen truly clear water. It is incredible in its beauty. 

 

Donner Lake – As another NorCal lake, Donner Lake is an amazing place to kill an afternoon or longer. Camping here is particularly wonderful. 

 
Learn more about Donner Lake in Northern California.    
What are some of the cleanest lakes in California? 
Clean and clear are pretty much synonymous with one another in this case, right? Of course, the list of outrageously clean and clear lakes in California doesn't end with the above-mentioned bodies of water. There are many more lakes in California known to be very clean, such as:  
Dixon Lake – This beautiful, sparkling lake is found in Southern California and boasts some of the cleanest water you've ever seen. 

 

Lake Tahoe – Sure, it's a huge attraction beloved by many, but Lake Tahoe is still outrageously clean despite the high traffic. 

 

Lake Gregory – This lake is so clear and clean that it's literally famous for it! Talk about clarity. 

 
Learn more about Lake Tahoe in all its clear majesty.   
Which Northern California lakes should I add to my bucket list? 
Honestly? All of them. However, if you're strapped for time and just need a few ideas, we've got plenty! Some amazing bucket-list-worthy Northern California lakes are ones including:  
Sardine Lake – Don't let the fishy name fool you; Sardine Lake is an amazingly beautiful Northern California lake that definitely deserves a place on your to-do list. 

 

Bullard's Bar Reservoir – This aquamarine paradise is literally like a postcard in terms of its beauty. The water is literally bright blue, like something out of a painting. 

 
Lake Britton – Nestled within the Lake Shasta region, this beautiful blue lake is thought to be one of the most beautiful in the nation. 

 
Learn more about each of these wonderful Northern California lakes. 
Related Articles
Explore Northern California
Featured Addresses

Convict Lake, California 93546, USA