Most People Don't Know These 15 Hidden Gems Exist In North Carolina
North Carolina is full of gorgeous scenery, museums, and interesting day trips. There's no shortage of fun to be had here in the Old North State, and you can read about some of those well-known places here. However, if you're looking to have a secret adventure in North Carolina, you'll find all sorts of hidden treasures across the state where you can do just that. Add these 15 hidden gems in North Carolina to your bucket list.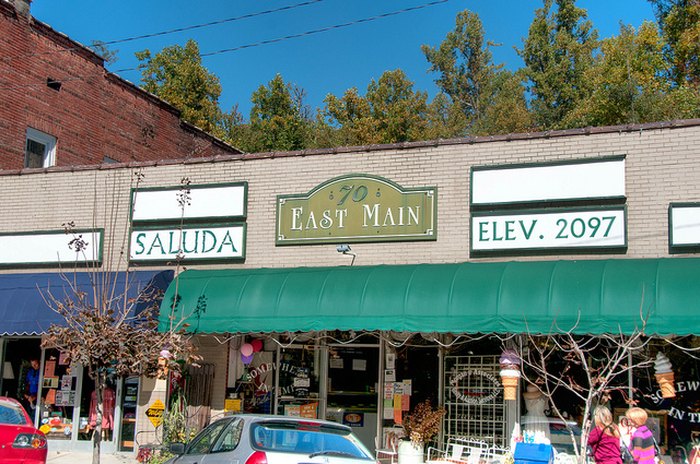 What are some of your favorite hidden gems in North Carolina? We'd love to hear about them — tell us in the comments below!
Looking for more off-the-beaten path places to explore? This hidden park in North Carolina is a secret little oasis that's positively perfect.
Address: Saluda, NC 28773, USA
Address: Jones Lake State Park, 4117 NC-242 N, Elizabethtown, NC 28337, USA
Address: Kindred Spirit Mailbox, Sunset Beach, NC 28468, USA
Address: Jockeys Ridge, Nags Head, NC 27959, USA
Address: Paint Rock Road, Paint Rock Rd, North Carolina 28743, USA
Address: Stanley Rehder Carnivorous Plant Garden at Piney Ridge Nature Preserve - Wilmington, 3800 Canterbury Rd, Wilmington, NC 28403, USA
Address: Marshall High Studios, LLC, 115 Blannahassett Island Rd, Marshall, NC 28753, USA
Address: Mirlo Drive Southeast, Mirlo Dr SE, North Carolina 28422, USA
Address: Battery Park Book Exchange, 1 Page Ave #101, Asheville, NC 28801, USA
Address: Newbold-White House, 151 Newbold White Rd, Hertford, NC 27944, USA
Address: Linville Gorge Wilderness, Marion, NC 28752, USA
Address: Blue Ridge Distilling Co Inc, 228 Redbud Ln, Bostic, NC 28018, USA
Address: Navitat Canopy Adventures, Poverty Branch Road, Barnardsville, NC, USA
Address: Newport, NC 28570, USA
Hidden gems in North Carolina
September 09, 2021
What are some other hidden gems in North Carolina?
Ironically, hidden gems aren't that hard to find here in North Carolina, as our state is truly a wondrous natural beauty. However, these 12 places in North Carolina are *so* under the radar, that only lifelong North Carolina residents know of their existence. Check them out, and be in-the-know about some of the state's coolest hidden treasures!
What are the best day trips to take in North Carolina?
Exploring North Carolina often means packing up the car and hitting the road for an epic journey. Truly, it never ceases to amaze us that some of the best destinations in the U.S. are located right in our backyard. Whether you're looking for beautiful scenery, mountain adventures, cool swimming holes, quality time with animals, beautiful gardens, or something else entirely, these nine day trips in North Carolina belong on your radar. And if you're ready to schedule a year's worth of fun in the Old North State, check out these 12 adventures in North Carolina!
What fun things are there to do in North Carolina?
North Carolina has it all: beaches, mountains, forests, and waterfalls — plus some of the most charming little towns and amazing big cities in the country! If you're on the hunt for fun things to do in North Carolina, we have a few lists you'll want to bookmark: our definitive guide to the best attractions in North Carolina and our nature lover's guide to North Carolina's natural beauty. Between these two guides, you're guaranteed to find all sorts of fun in the Tar Heel State!
Address: Saluda, NC 28773, USA
Address: Jones Lake State Park, 4117 NC-242 N, Elizabethtown, NC 28337, USA
Address: Kindred Spirit Mailbox, Sunset Beach, NC 28468, USA
Address: Jockeys Ridge, Nags Head, NC 27959, USA
Address: Paint Rock Road, Paint Rock Rd, North Carolina 28743, USA
Address: Stanley Rehder Carnivorous Plant Garden at Piney Ridge Nature Preserve - Wilmington, 3800 Canterbury Rd, Wilmington, NC 28403, USA
Address: Marshall High Studios, LLC, 115 Blannahassett Island Rd, Marshall, NC 28753, USA
Address: Mirlo Drive Southeast, Mirlo Dr SE, North Carolina 28422, USA
Address: Battery Park Book Exchange, 1 Page Ave #101, Asheville, NC 28801, USA
Address: Newbold-White House, 151 Newbold White Rd, Hertford, NC 27944, USA
Address: Linville Gorge Wilderness, Marion, NC 28752, USA
Address: Blue Ridge Distilling Co Inc, 228 Redbud Ln, Bostic, NC 28018, USA
Address: Navitat Canopy Adventures, Poverty Branch Road, Barnardsville, NC, USA
Address: Newport, NC 28570, USA