This Haunted Tunnel In North Carolina Is Not For The Faint Of Heart
On the freezing cold morning of December 30th, 1882, a group of 30 convicts (belonging to a chain gang) entered a boat on the eastern side of the Tuckasegee River. The water was frigid, and heavy puddles from a rainstorm the night before sloshed on the boat as it began to make its way to its destination, the 700-foot-long Cowee Tunnel. The tunnel was constructed prior to the railroad line to keep up with construction.
As the men began to grow weary of the large puddles of water forming in the boat, and a cable line attached to the boat pulled them nearer to their destination deep within the wild and untamed mountains, some passengers became fearful the boat was beginning to drown. Police guards yelled at the men to calm down, but the panic had been sparked and the prisoners began to push towards the front of the boat. With constant, back-and-forth commotion, the boat capsized into the frozen river.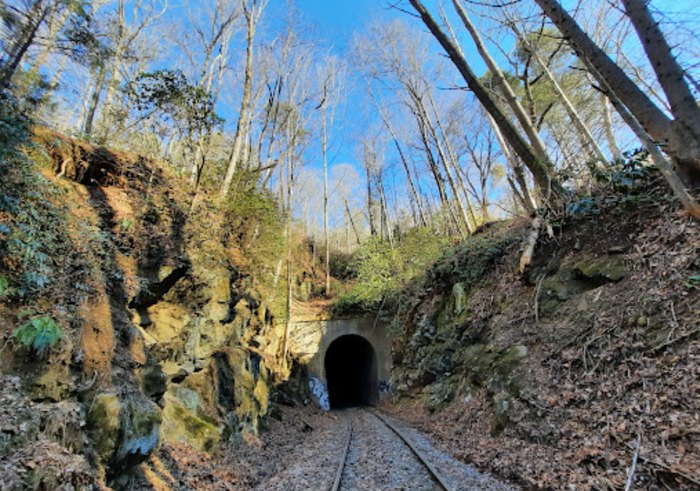 Today, the Cowee Tunnel is somewhat hard to access but can be found along the Great Smoky Mountain Railroad. The Cowee Tunnel Disaster is indeed one of the greatest tragic occurrences in Western, North Carolina.
Do you have any experience with the Cowee Tunnel? Any stories or spooks you'd like to add?
If you love a good North Carolina ghost story and are looking for an easier-to-access haunted location, take a drive down this haunted road.
Address: Cowee Tunnel Road, Cowee Tunl Rd, North Carolina 28779, USA
OnlyInYourState may earn compensation through affiliate links in this article.
Cowee Tunnel
September 01, 2022
What are some other bone-chilling locations in North Carolina? 
If you are looking through North Carolina for abandoned places, creepy locations, or horrifying haunts, then you have come to the right place. So, if you are brave enough, then continue reading. If the Cowee Tunnel tragedy allured you into the darkness of this underpass then check out more information on the horrifying tales found in this cursed tunnel. If you insist on returning to creepy tunnels then maybe we can entice you with this abandoned tunnel, simply in the middle of nowhere. You will have to hike to get there, and many people have claimed that this tunnel is haunted. Grab your hiking backpack and head out on a long and hard trek through the woods to a plane crash site. There is just something creepy about seeing the wreckage of a crash that claimed someone's life. Some people have claustrophobia while others have the fear of death. Both are pretty common; there is one story about a horseman that is truly chilling. This man was buried alive and tried to claw his way out of his untimely demise. Gave sites are classic places where you can go to find terrifying stories of the deceased. There is a story of a weeping arch that got its name from dripping a red liquid on visitors. Old Civil War gravesites are said to have whole armies of ghosts in them, even gunfire and battle cries can be heard from the cemetery. All of these tales and more can be found in these 7 haunted graveyards. 
Address: Cowee Tunnel Road, Cowee Tunl Rd, North Carolina 28779, USA
OnlyInYourState may earn compensation through affiliate links in this article.