19 Places in New Mexico That Belong On Your Bucket List
New Mexico has sweeping landscapes that make you feel like you've climbed inside an oil painting. But the state is also filled with sites that showcase its lengthy and complex history. Whether you live here or are simply visiting, you'll be sorry if you miss these amazing places to visit in New Mexico.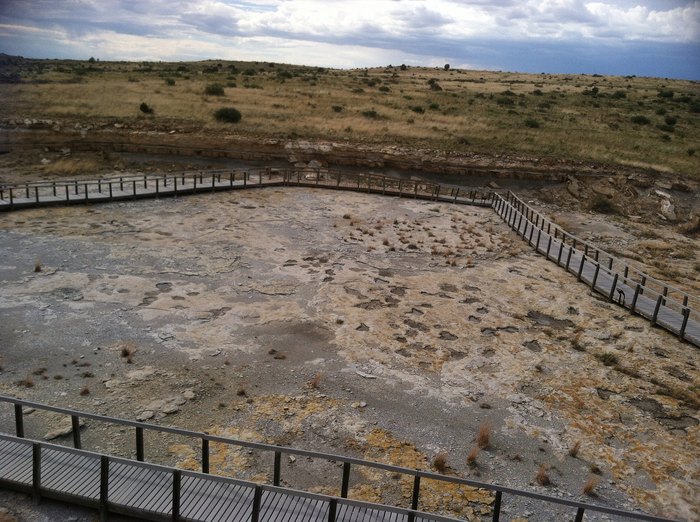 What other places are on your New Mexico bucket list? Check out more of New Mexico's most beautiful places here.
Address: Clayton Lake State Park and Dinosaur Trackways, 141 Clayton Lake Rd, Clayton, NM 88415, USA
Address: 597 NM-597, Teec Nos Pos, AZ 86514, USA
Address: 3115 NM-161, Watrous, NM 87753, USA
Address: 11000 Ice Cave Rd, Grants, NM 87020, USA
Address: Aztec Ruins National Monument, 725 Ruins Rd, Aztec, NM 87410, USA
Address: Earthship Biotecture, 2 Earthship Way, Tres Piedras, NM 87577, USA
Address: The Plaza Square, Albuquerque, NM 87104, USA
Address: San Miguel Chapel, 401 Old Santa Fe Trail, Santa Fe, NM 87501, USA
Address: Rio Grande Gorge, New Mexico 87529, USA
Address: Plaza Central, Santa Fe, NM 87507, USA
Address: Gila Cliff Dwellings National Monument, 26 Jim Bradford Trail, Mimbres, NM 88049, USA
Address: Chisum Trail, Roswell, NM 88203, USA
Address: Sandia Mountains, New Mexico 87122, USA
Address: Chaco Culture National Historical Park, New Mexico, USA
Address: Kasha-Katuwe Tent Rocks National Monument, 0 NM-22, Cochiti Pueblo, NM 87072, USA
Address: Bosque Del Apache National Wildlife Refuge Visitor Center, 1001 NM-1, San Antonio, NM 87832, USA
Address: Carlsbad Caverns National Park, Carlsbad, NM 88220, USA
Address: White Sands National Park, New Mexico, USA
Places To Visit In New Mexico
March 27, 2020
What are the best local attractions in New Mexico?
If you're looking for something other than popular attractions in New Mexico that might have some more local flair, we've got some great options. Truth or Consequences, also known as T or C, is a small town known for its incredible hot springs. Along with rustic charm and inexpensive accommodations, you could easily make a memorable weekend out of a visit there. If you enjoy the history and vibe of Route 66, there are plenty of great places to stop along the drive within New Mexico, such as the town of Tucumcari, which still has a lot of the old signs, lights, and look of the 1950s.
What places in New Mexico should I see before I die?
You'll definitely want to add these to your New Mexico bucket list. A must-see for natural wonders is definitely the Bisti-Badlands, located near Nageezi. Not many people known that New Mexico has its own badlands, with uniquely and naturally carved out rock formations that have colorful stripes of sediment built up and eroded down over time. Take what is considered the best train ride in America Chama to Antonito on the Cumbres and Toltec Scenic Railroad for the experience of a lifetime. It is especially enchanting in the fall because it'll take you through gorgeous mountain forests full of color on a steam train.
What are the most beautiful places in New Mexico?
It's no secret that New Mexico has some absolutely spectacular natural beauty. From the White Sands to the Organ Mountains, there is no shortage of lovely spots to hike, take some photos, camp, and more. A great example of this is the Angel Peak Scenic Area near Bloomfield, New Mexico. The rugged, colorful terrain almost seems like something from another world. If you love canyons, then Cimarron Canyon State Park is a must. The towering, rocky canyon walls are incredible to see in person, and there is tons of opportunity for outdoor recreation within the park.
Address: Clayton Lake State Park and Dinosaur Trackways, 141 Clayton Lake Rd, Clayton, NM 88415, USA
Address: 597 NM-597, Teec Nos Pos, AZ 86514, USA
Address: 3115 NM-161, Watrous, NM 87753, USA
Address: 11000 Ice Cave Rd, Grants, NM 87020, USA
Address: Aztec Ruins National Monument, 725 Ruins Rd, Aztec, NM 87410, USA
Address: Earthship Biotecture, 2 Earthship Way, Tres Piedras, NM 87577, USA
Address: The Plaza Square, Albuquerque, NM 87104, USA
Address: San Miguel Chapel, 401 Old Santa Fe Trail, Santa Fe, NM 87501, USA
Address: Rio Grande Gorge, New Mexico 87529, USA
Address: Plaza Central, Santa Fe, NM 87507, USA
Address: Gila Cliff Dwellings National Monument, 26 Jim Bradford Trail, Mimbres, NM 88049, USA
Address: Chisum Trail, Roswell, NM 88203, USA
Address: Sandia Mountains, New Mexico 87122, USA
Address: Chaco Culture National Historical Park, New Mexico, USA
Address: Kasha-Katuwe Tent Rocks National Monument, 0 NM-22, Cochiti Pueblo, NM 87072, USA
Address: Bosque Del Apache National Wildlife Refuge Visitor Center, 1001 NM-1, San Antonio, NM 87832, USA
Address: Carlsbad Caverns National Park, Carlsbad, NM 88220, USA
Address: White Sands National Park, New Mexico, USA