11 Incredible Trips In New Mexico That Will Change Your Life
You don't need to go out of state to have a great adventure. In fact, if you search "day trips near me in New Mexico," you might just be surprised by the results. Save money and travel time with local trips that will blow you away. Most people know about Carlsbad Caverns National Park and White Sands National Monument, but here are some other unique destinations in New Mexico. Ready to start exploring? Let's go!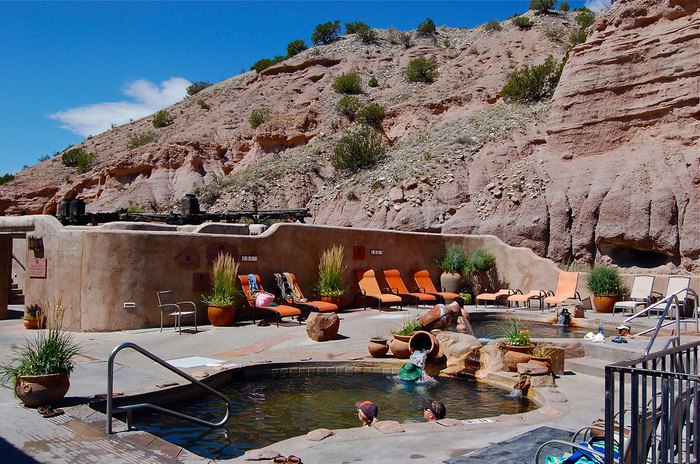 Have you taken any of these trips? Is there a destination you'd add to this list? We hope we've helped provide some inspiration to the ever-pressing question, "what are some day trips near me in New Mexico?" If you have any other destinations that may have missed the list, be sure to share them with us in the comments below — we'd love to hear from you!
For more fun places to go in New Mexico, check out our previous article: 12 Unforgettable New Mexico Day Trips, One For Each Month Of The Year.
Address: Ojo Caliente Mineral Springs Resort & Spa, 50 Los Banos Drive, Ojo Caliente, NM 87549, USA
Address: Catwalk Recreation Area, Catwalk Road, Glenwood, NM 88039, USA
Address: Farmington, NM, USA
Address: Red Horse BnB, 2155 Londene Ln SW, Albuquerque, NM 87105, USA
Address: Cumbres & Toltec Scenic Railroad, 500 Terrace Ave, Chama, NM 87520, USA
Address: Madrid, NM 87010, USA
Address: The Blue Hole, 1085 Blue Hole Rd, Santa Rosa, NM 88435, USA
Address: City of Rocks State Park, 327 NM-61, Faywood, NM 88034, USA
Address: Inn of the Mountain Gods, 287 Carrizo Canyon Rd, Mescalero, NM 88340, USA
Address: Grants, NM 87020, USA
day trips near me in New Mexico
August 10, 2021
What are some more of the best day trips in New Mexico?
New Mexico calls to all kinds of travelers: foodies, outdoor adventurers, hiking enthusiasts, history buffs, art aficionados, and everyone in between. When planning an incredible day trip in New Mexico, you might be tempted to check out some of our tailor-made day trip itineraries. One of the most complete is the list of 12 day trips in New Mexico, one for each month of the year. Some destinations on this list include Billy the Kid Scenic Byway, Bisti/De-Na-Zin Wilderness, Bridal Veil Falls Trail, Chaco Culture National Historic Park, Chloride, Cimarron Canyon State Park, Enchanted Circle Scenic Byway, Gila Cliff Dwellings National Monument, Kingston, Madrid, Silver City, and Valle de Oro National Wildlife Refuge.
What are the must-visit places in New Mexico?
When it comes to the top attractions in New Mexico, White Sands National Park is an obvious choice, and for good reason. The mesmerizing beauty of the white sands will impress just about anyone. This striking color is due to the gypsum crystals that make up the fine, powdery sand. In fact, from far away, the sand looks more like snow than what you'd find on your typical dune-covered landscape. And speaking of snow, one of the most popular activities at White Sands National Park is sand sledding. That's right; you can hop on a sled and glide down the sand dunes for a totally adrenaline-pumping activity. Other popular recreational activities include bicycling, hiking, and camping. Learn more about what makes White Sands National Park such a top-rated New Mexico attraction.
Address: Ojo Caliente Mineral Springs Resort & Spa, 50 Los Banos Drive, Ojo Caliente, NM 87549, USA
Address: Catwalk Recreation Area, Catwalk Road, Glenwood, NM 88039, USA
Address: Farmington, NM, USA
Address: Red Horse BnB, 2155 Londene Ln SW, Albuquerque, NM 87105, USA
Address: Cumbres & Toltec Scenic Railroad, 500 Terrace Ave, Chama, NM 87520, USA
Address: Madrid, NM 87010, USA
Address: The Blue Hole, 1085 Blue Hole Rd, Santa Rosa, NM 88435, USA
Address: City of Rocks State Park, 327 NM-61, Faywood, NM 88034, USA
Address: Inn of the Mountain Gods, 287 Carrizo Canyon Rd, Mescalero, NM 88340, USA
Address: Grants, NM 87020, USA