A Trip To This Fossil Park In New Mexico Is An Adventure Like No Other
While learning about ancient artifacts and seeing pictures is always cool, Clayton Lake State Park in New Mexico is also one of the United States coolest fossil parks. If you've ever wanted to go fossil hunting in New Mexico, you'll love following the dinosaur trackways at Clayton Lake. Here you can walk through the same landscape that dinosaurs roamed, and even see remnants of footprints and other evidence that they left behind. Unbeknownst to many, it's one of the best places to find dinosaur fossils in New Mexico, and there are boardwalks throughout that take you through the archeological wonders right before your eyes. Jump on the Dinosaur Trail at Clayton Lake State Park and get ready to experience a piece of the prehistoric past at this one-of-a-kind fossil park.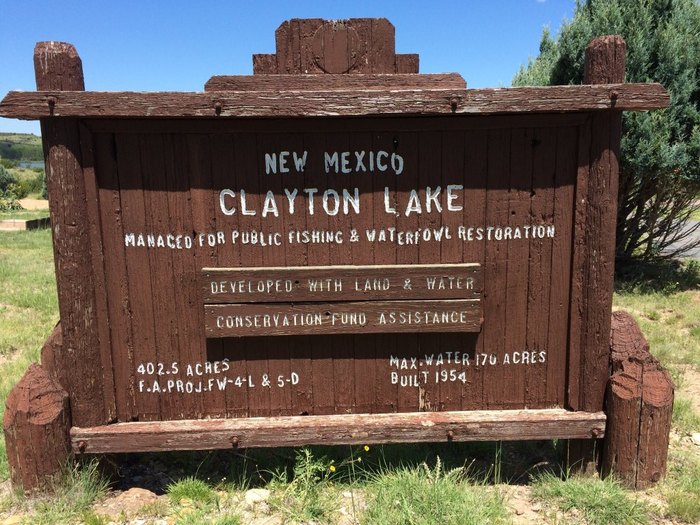 For more information about this fantastic park, its trail system, and its plethora of amenities, visit the Clayton Lake State Park website.
Have you ever seen prehistoric fossils up close at this amazing fossil park? What did you think? We'd love to hear all about your thoughts, and don't forget to share photos from your adventures with us in our New Mexico Nature Lovers Facebook group, or tag us on Instagram by tagging #onlyinnewmexico for a chance to be featured!
For another amazing state park with special views, you need to visit this jaw-dropping park that's home to up-close views of ancient lava beds. And while you're at it, stay on the trail with the handy-dandy AllTrails+ map app to find even more things to do in the area.
OnlyInYourState may earn compensation through affiliate links in this article.
More to Explore
Fossils in New Mexico
Where else can I find fossils in New Mexico?
If you're wondering where to find fossils in New Mexico, you have several options:
White Sands National Park contains some incredible fossils, including ancient human footprints.
Stunning rock formations and unique fossils await at the Lybrook Fossil Area out in the New Mexico desert.
Find not only fossils but also petrified trees and unique rock formations in the lesser-known Ojito Wilderness.
The largest collection of full-scale bronze dinosaur skeletons and fossils in the entire United States is located at the Mesalands Dinosaur Museum and Natural Science Laboratory in Tucumcari.
Can I collect fossils that I find in New Mexico?
Invertebrate fossils can be collected in some instances, whereas vertebrate fossils are legally protected and can't be collected without special permission. Many public lands don't allow the collection of any natural materials at all, whether that's fossils or mineral specimens. Your best bet is to be aware of the rules of the park you're visiting ahead of time.
What are some other great parks to visit in New Mexico?
The Land of Enchantment is full of fascinating natural wonders to explore, boasting 35 state parks with a variety of landscapes ranging from forest to desert and more. Here are some great parks to visit in New Mexico:
Elephant Butte Lake State Park is the biggest, with welcoming lake waters and sandy beaches to enjoy, along with hiking and camping.
Go scuba diving at Bottomless Lakes State Park

in the aforementioned lakes, which are actually sinkholes. While not really bottomless, these sinkholes can reach as deep as 40 feet.

City of Rocks State Park features volcanic rock formations dating back over 30 million years.

Manzano Mountains State Park has miles and miles of trails through the wilderness.
There are so many beautiful state parks to visit in New Mexico.
Related Articles
Explore New Mexico
Featured Addresses

Clayton Lake State Park and Dinosaur Trackways, 141 Clayton Lake Rd, Clayton, NM 88415, USA