10 Bizarre Roadside Attractions In New Mexico That Will Make You Do A Double Take
There are times when you're driving along, glancing at your surroundings, when you spot something out of the corner of your eye. Something that definitely doesn't belong in the New Mexico landscape, or which is just too fascinating to ignore. Before you're consciously aware of your decision, you find yourself hitting the breaks in order to investigate. Numerous roadside attractions will seize your attention as you travel around New Mexico. Here are some of the weirdest roadside attractions in New Mexico to check out ASAP: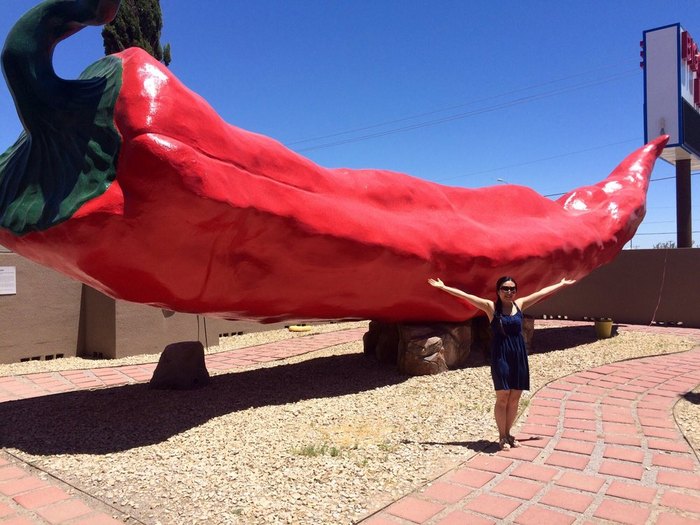 What's your favorite piece of New Mexico kitsch? Tell us your thoughts in the comments!
For more examples of offbeat attractions, read about the weird and wacky museums in New Mexico!
OnlyInYourState may earn compensation through affiliate links in this article.
More to Explore
Roadside Attractions in New Mexico
Which attractions in New Mexico are worth visiting?  
New Mexico is a wonderful place; it's really no wonder it's called the Land of Enchantment! It really is quite enchanting and full of magic. There are plenty of attractions in New Mexico worth visiting, like the amazing lake known as the Blue Hole in Santa Rosa. It's one of the most popular destinations in the entire state and it's obvious why: it's a true natural wonder in New Mexico for its depth, clarity, beauty, and amazing blue color. Another awesome attraction in New Mexico is the legendary art installment known as Meow Wolf. This attraction is so incredibly epic that you'll want to allow yourself at least a few hours to explore it all. That's all we'll say about that one – it's one of those places that are simply indescribable. You just have to experience it!  
What are some of the best roadside attractions in New Mexico?  
With 465 miles of Route 66 in New Mexico alone, there are lots and lots of miles of roadside attractions well worth stopping for. Some of our favorite roadside attractions in New Mexico include the big pink flamingo, in Abiquiu, which is 12 feet tall and lives in the parking lot of a general store. It's just as hot pink as you'd expect it to be! Then, in Albuquerque, you can find a memorial for fictional meth kingpin Walter White of Breaking Bad fame, and in Rodeo, you can find the world's largest rattlesnake rattle. Weird New Mexico is the best New Mexico, in our opinion. 
What are some of the strangest roadside attractions in New Mexico?  
Does "the entire city of Roswell" count as the strangest roadside attraction in New Mexico? In one little city, you'll find seemingly endless extraterrestrial-themed businesses, museums, eateries, hotels, motels, and so much more. Check out the International UFO Museum, which is as wildly interesting and offbeat as it sounds, and then spend some time at the Roswell Spacewalk. You'll also find some delightful murals, silly alien grey-themed shops, and so much more. We love New Mexico in all its delightfully weird glory!  
Related Articles