This Waterfall Road Trip Through New Jersey Is A Must
New Jersey is pretty tiny, so we often leave the state for road trips. While that's all well and good, there are some pretty epic drives you can take without ever leaving our borders. We have well over a dozen different waterfalls to enjoy, each one unique. Though it would be fantastic to see them all, we wanted this trip to be doable in one day. This waterfall road trip through New Jersey features eight spectacular waterfalls that are some of the very best in the state. The trip itself takes 4.5 hours of drive time, so gas up the car and pack some snacks and get ready to enjoy this waterfall road trip through New Jersey!
For directions, view the official map.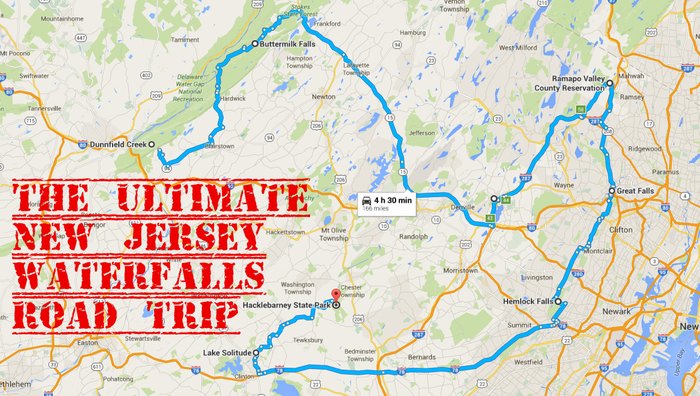 Have you been to any of these falls before? Share your insights and tips in the comments, and let me know if you would take this trip!
Prefer your waterfall adventures to involve less hiking and more luxury? This resort in New Jersey is the best of both worlds. Or, take a scenic drive through New Jersey on one of these beautiful country roads.
OnlyInYourState may earn compensation through affiliate links in this article.
Waterfall Road Trip Through New Jersey
February 14, 2021
What are the best waterfall hikes in New Jersey?
When taking in The Garden State's natural beauty, it's difficult to compete with the experience of a waterfall trail. Happily, New Jersey's nature lovers have no shortage of stunning hikes from which to choose. Our recommendations? Head out to Sussex County to marvel at the highest waterfall in the state, Buttermilk Falls. Climb the trail stairs to gain various views of these majestic falls. Along Apshawa Brook, discover the grand cascades of Apshawa Preserve Falls in Passaic County. This scenic hike offers adventurers Jersey Highlands and Butler reservoir views. Passaic County is also home to Chikahoki Falls in the Norvin Green State Forest. This trail affords hikers 360° views of the surrounding landscape from its Wyanokie High Point.  
What are the best outdoor adventures in New Jersey?
Boasting 36 beautiful state parks, 11 pristine state forests, and almost 1,000 lakes and ponds, New Jersey's outdoor enthusiasts are spoiled with a multitude of thrilling activities. Take the family to spend a day playing in the treetops at Tree to Tree in Cape May. Zip line courses range in difficulty and guide visitors through lush, exciting paths over wobbly bridges and tightropes. Or go on an unforgettable nighttime horseback ride at Echo Lake Stables in Newfoundland, where the trails follow ancient Native American paths through the surrounding mountainsides and streams. (You don't have to be an experienced equestrian, they offer riding lessons for newbies, too!) Mountain Creek Resort in Northwestern New Jersey's Kittatinny Mountains is another thrill-seekers paradise. Home to one of the country's highest-rated mountain bike parks, their 50 miles of trails offer something for everyone, from kids to beginners, all the way up to Armstrong-level advanced. 
 What are the best family-friendly hikes in New Jersey?
New Jersey is home to some of the best nature trails in the country, and they're suited for hikers of all experience levels. Spend an unforgettable day with the family on Cattus Island on the Toms River. Boardwalks and easy trails guide visitors through 530 acres of beautiful shore scenery with plenty of opportunities for birdwatching and wildlife viewing. In Somerset, kids and parents alike will love the attractions at Colonial Park. With fun-filled playgrounds, idyllic picnic areas, paddle boats, mini-golf courses, and easy trails, there is something for everyone to enjoy. In Essex County, South Mountain Reservation is a hiking family's paradise. Little ones will be in awe of the delightful "fairy trail" and paved walking loop around the attraction's zoo!