New Jersey Is Home To One Of The Most Visited National Parks In The Country
When you think of America's most visited national park, what comes to mind? Yellowstone? Perhaps the Grand Canyon? Both are major tourist draws but their visitation pales in comparison to a park that's partially located in New Jersey. Based on a 2013 data study, Arizona's Grand Canyon attracts around 4.4 million visitors each year; Yellowstone, which spans three states (Idaho, Montana, Wyoming) brings in around 3.4 million visitors.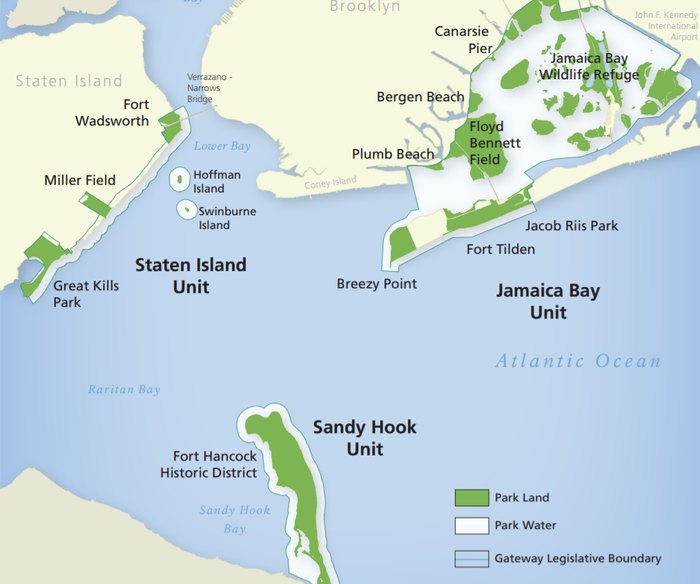 The park is also home to Gunnison Beach, New Jersey's only clothing optional beach. However, the history and scenic beauty of this park are what I love most. For more information about this unique park, check out this article on Fort Hancock and this article about the Nike Missile site. For more details on the events mentioned, check out the "Gateway" page on the National Park Service website.
OnlyInYourState may earn compensation through affiliate links in this article.
Address: Gateway National Recreation Area Sandy Hook Unit, 26 Hudson Rd, Highlands, NJ 07732, USA
state parks to visit in New Jersey
February 08, 2022
What are the best state parks in New Jersey?
There are so many state parks in New Jersey that you can find one for anyone to enjoy. For those who like peace and quiet, Brendan T. Byrne State Forest offers serene hikes through the pinelands. For seashore views and sandy toes, Island Beach State Park is the place to go. If you love hiking around waterfalls and scrambling up rocks for stunning views, Norvin Green State Forest will capture your heart. Love camping, kayaking, and hiking? Stokes State Forest is calling your name!
Does New Jersey have any National Parks?
New Jersey is home to some of the most visited National Parks in the country! Gateway National Recreation Area and Great Falls National Historical Park are both run by the National Park Service and offer plenty of stunning views and things to do. Other National Park Service spots in the state include Morristown National Historical Park, Delaware Water Gap National Recreation Area, The National Wild And Scenic River At The Lower Delaware, and Thomas Edison National Historical Park. There are also National Recreation Trails that run through the state! Visit New Jersey's NPS page to learn more about each of these spots.
What are the best family-friendly things to do outside in New Jersey?
New Jersey is a great place to get outside and explore with your family. Families with young kids will enjoy a day on the Ocean City boardwalk, or perhaps climbing the rock staircases at the Ted Stiles Preserve. If your kids love the beach, it's hard to top a day at Sandy Hook! If you're looking for a remote and unique place to camp, Jenny Jump State Forest might become your new favorite spot. And if science fascinates the family, visit Liberty State Park and the Liberty Science Center.