Don't Miss These 11 Places To See Gorgeous Fall Foliage In Nevada
Fall in Nevada is my favorite season. The weather is delightful and the pumpkin-spiced lattes are plentiful. Best of all, the fall foliage turns into hues of oranges, yellows, golds, and reds. It's as if the aspens, oaks, maples, and cottonwoods are all dressed up for a special occasion — and you're invited to watch. Here are 11 places where you can see the colorful autumn show without even leaving the state.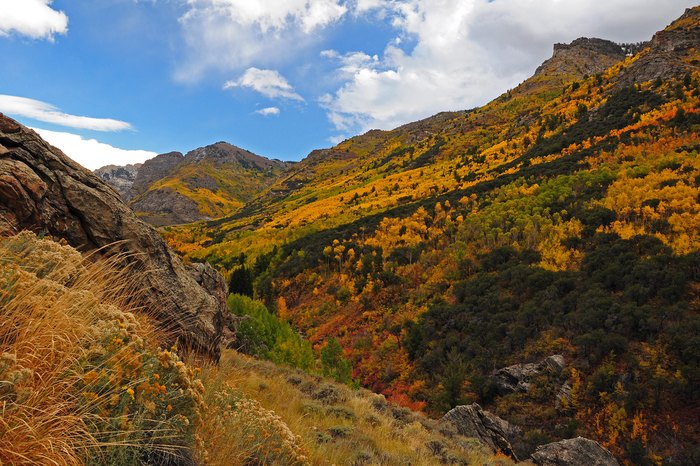 Photos don't really do justice to the gorgeous fall foliage in NV. I hope you will have a chance to check some of these places out in person!
Address: Ash Meadows National Wildlife Refuge, 8757 Spring Meadows Rd, Amargosa Valley, NV 89020, USA
Address: Bowers Mansion Regional Park, 4005 Bowers Mansion Rd, New Washoe City, NV 89704, USA
Address: Carson River Drive, Carson River Dr, Dayton, NV 89403, USA
Address: Floyd Lamb Park, 9200 Tule Springs Rd, Las Vegas, NV 89131, USA
Address: Spring Mountains National Recreation Area Office, 4701 N Torrey Pines Dr, Las Vegas, NV 89130, USA
Address: Mt. Rose - Ski Tahoe, 22222 NV-431, Reno, NV 89511, USA
Address: Riverwalk District, Reno, NV, USA
Address: Ruby Lake National Wildlife Refuge, Ruby Valley, NV 89833, USA
Address: National Forest Development Road 448, NF-448, Nevada 89311, USA
Address: Lake Tahoe, United States
Fall in Nevada
August 17, 2022
What are the best places to visit during autumn in Nevada?
Nothing screams "fall" quite like a trip to the pumpkin patch! One of the best places to visit during autumn in Nevada is the Lattin Farms Pumpkin Patch. Located in Fallon, this family-friendly destination takes visitors on a hayride to the patch, which is brimming with pumpkins of all shapes and sizes. You can also enjoy a corn maze, miniature train, scarecrow factory, and more! Gather up the whole family and venture out to this festive pumpkin patch in Nevada. It will make your autumn season one to remember.
Where can I see fall colors in Nevada?
The Silver State is a leaf peeper's paradise, so if you're in the mood to see some fall colors in NV, you're in luck. One of the most scenic spots would have to be the Mount Rose Scenic Drive. Running between Reno and Lake Tahoe, this 25-mile route offers sweeping panoramic views of the Washoe Valley and Washoe Lake, the Sierras, and the Tahoe Basin. Although the road is beautiful to drive on any time of year, it really comes alive in the fall, when the trees are bursting with vibrant seasonal hues.
Which hiking trails in Nevada are best in the fall?
If you're looking for a short and sweet hike to tackle this fall, set your sights on the Galena Creek Nature Trail. One of the best fall hikes in Nevada, this delightful stroll is located at Galena Creek Regional Park along the Mount Rose Highway. At just over a mile long and with minimal elevation gain, the trail requires little effort — but still boasts spectacular views. During fall, the surrounding forest erupts in a striking display of autumn color, with the leaves of its trees transforming into the most vibrant, eye-catching shades of yellow you'll ever lay your eyes on. The best part is that, since it's such a short hike, you will have plenty of time to stop and admire the scenery!
Address: Ash Meadows National Wildlife Refuge, 8757 Spring Meadows Rd, Amargosa Valley, NV 89020, USA
Address: Bowers Mansion Regional Park, 4005 Bowers Mansion Rd, New Washoe City, NV 89704, USA
Address: Carson River Drive, Carson River Dr, Dayton, NV 89403, USA
Address: Floyd Lamb Park, 9200 Tule Springs Rd, Las Vegas, NV 89131, USA
Address: Spring Mountains National Recreation Area Office, 4701 N Torrey Pines Dr, Las Vegas, NV 89130, USA
Address: Mt. Rose - Ski Tahoe, 22222 NV-431, Reno, NV 89511, USA
Address: Riverwalk District, Reno, NV, USA
Address: Ruby Lake National Wildlife Refuge, Ruby Valley, NV 89833, USA
Address: National Forest Development Road 448, NF-448, Nevada 89311, USA
Address: Lake Tahoe, United States