Here Are The Best Times And Places To View Fall Foliage In Nebraska
Are you wondering "when do leaves change color in Nebraska?" It's a common question. Nebraska isn't really considered a fall leaf-peeping destination, but we who live here know that our state puts on a pretty great show every year. The lush river valleys are especially spectacular, but you can find bright fall colors almost anywhere in Nebraska. According to this interactive fall foliage prediction map released by SmokyMountains.com, here's when we can expect to see the best foliage all across Nebraska this season.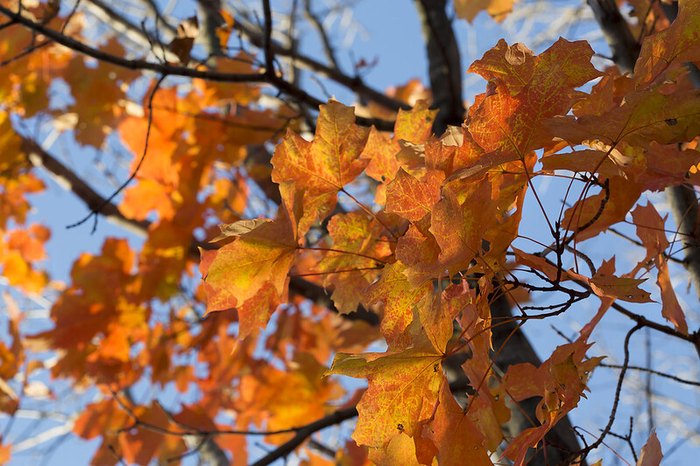 This map's predictions are just that: predictions. No one can say for sure when the leaves will reach their peak colors. It depends on temperature and precipitation, and we know that in Nebraska there are never any guarantees on those!
What's your favorite foliage viewing spot in the fall? Share the best places in the comments so we can all get out there and see nature's most beautiful spectacle this year!
OnlyInYourState may earn compensation through affiliate links in this article.
More to Explore
When do leaves change color in Nebraska?
What's fall in Nebraska generally like?
Fall in Nebraska is a beautiful season that we're always so thankful to experience. While the rest of the country hasn't caught on to our fall foliage prowess, Nebraskans know how divine this season is! Temperatures begin to fall in September and October, with daytime highs going from the '80s around Labor Day, to the '70s and even upper '60s by Halloween. Our fall foliage is plentiful, our fall festivals are magical, and, in our very humble opinion, our fall game is the best in the country!
What are some of the best places to view fall foliage in Nebraska?
Autumn is a bold and brilliant season in the Cornhusker State and there are all sorts of state parks in Nebraska that offer some of the most incredible views of fall foliage. Check out Platte River State Park in Louisville, Mahoney State Park in Ashland, or perhaps even Indian Cave State Park in Shubert. Ponca State Park is a favorite as well, and some folks choose to indulge in drives down the Lincoln Highway Scenic and Historic Byway, the Lewis and Clark Scenic Byway, or the Heritage Highway of Nebraska for great dashboard views. We also put together this fall foliage road trip in Nebraska that offers a big punch of fall colors; the trip visits naturally scenic areas along Heritage Byway (also known as the "Highway of Treasures") such as the charming small towns of Brownville, Alma, and Edison and amazing state parks such as Indian Cave State Park and Rock Creek Station State Historical Park.
Related Articles
Explore Nebraska