15 Awesome Corn Mazes In Nebraska You Have To Do This Fall
If you've already visited your fill of haunted houses for the year, maybe it's time to move on to a less-scary Nebraska fall tradition: corn mazes! For anyone who has actually been lost in a cornfield, the prospect of wandering into an intentionally confusing one is actually still pretty scary. 🙂 But corn mazes are a nice bit of family-friendly fun that even incorporates exercise. Here are some of Nebraska's favorite corn mazes to stroll through this fall.
(Please note that most of the attractions listed don't have pictures of their corn mazes available. In those cases we've substituted generic corn maze pictures for illustrative purposes.)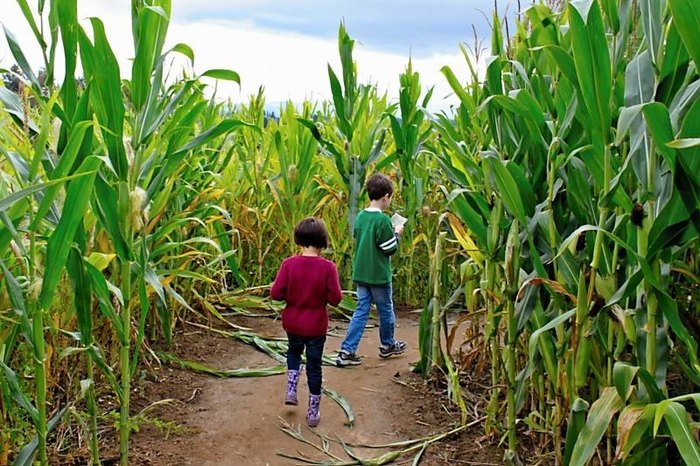 You'll notice that all of the corn mazes here happen to be on pumpkin patches, most of which were featured in our list of Pumpkin Patches in Nebraska. Do you know of any others? Let us know in the comments!
Address: 10798 726 Rd, Holdrege, NE 68949, USA
Address: 1098 County Rd N, Oakland, NE 68045, USA
Address: 76472 Rd 422, Cozad, NE 69130, USA
Address: 1249 N Homestead Rd, North Platte, NE 69101, USA
Address: 55275 837th Rd, Norfolk, NE 68701, USA
Address: 16531 S 38th St, Roca, NE 68430, USA
Address: 12102 S 180th St, Gretna, NE 68028, USA
Address: 2024 Ashland Rd, Ceresco, NE 68017, USA
Address: 2611 Arbor Ave, Nebraska City, NE 68410, USA
Address: 9677 Co Rd 3, Nickerson, NE 68044, USA
Address: 121 Eagle Rd, St Libory, NE 68872, USA
Address: 574 Denton Rd, St Libory, NE 68872, USA
Address: 3935 NE-133, Blair, NE 68008, USA
Address: 6707 Wenninghoff Rd, Omaha, NE 68122, USA
All About Fall In Oklahoma
September 15, 2022
Fall is probably the best time to explore Nebraska. Not only does it have all the amazing corn mazes above, it is also filled with farms, orchards, pumpkin patches, scenic fall drives, and just about every fall activity you can imagine. Everyone in the family will find something they love in this state. Let's explore some of the best fall options that Nebraska has to offer.
What are the best fall day trips in Nebraska?
Nebraska is chock full of wonderful fall day trips. Apple orchards like Kimmel Orchard, Union Orchard, and Arbor Day farm make for a wonderful day of fresh fruit picking. The little town of Taylor has hand-painted cutout villagers scattered through town. See if you can find them all! The Sandhill region contains several wineries to sample from. Their state parks are utterly stunning with colorful trees as far as the eye can see.
Where are the best places to see fall foliage in Nebraska?
Nebraska has wide swaths of gorgeous fall foliage. One of the best routes to see it is to take a drive along the Heritage Highway which begins in Edison and ends in Brownville. There are tons of little side trips along the way such as Rock Creek Station. This is a drive that takes about four hours and will reward you with some of the most beautiful fall scenery you'll ever encounter.
What are the best pumpkin patches in Nebraska?
Nebraska certainly isn't lacking in wonderful autumn pumpkin patches. Arbor Day Farm, which is part of our corn maze list above, is also home to a fun pumpkin patch with activities for the kids, hay rides, and more. Harvest Moon Pumpkin patch is almost a fair, with kid roller coasters, jumping pillows, ziplines, and more. You can also pick out your perfect pumpkin!
Address: 10798 726 Rd, Holdrege, NE 68949, USA
Address: 1098 County Rd N, Oakland, NE 68045, USA
Address: 76472 Rd 422, Cozad, NE 69130, USA
Address: 1249 N Homestead Rd, North Platte, NE 69101, USA
Address: 55275 837th Rd, Norfolk, NE 68701, USA
Address: 16531 S 38th St, Roca, NE 68430, USA
Address: 12102 S 180th St, Gretna, NE 68028, USA
Address: 2024 Ashland Rd, Ceresco, NE 68017, USA
Address: 2611 Arbor Ave, Nebraska City, NE 68410, USA
Address: 9677 Co Rd 3, Nickerson, NE 68044, USA
Address: 121 Eagle Rd, St Libory, NE 68872, USA
Address: 574 Denton Rd, St Libory, NE 68872, USA
Address: 3935 NE-133, Blair, NE 68008, USA
Address: 6707 Wenninghoff Rd, Omaha, NE 68122, USA