It's Impossible To Forget These Horrific Winter Storms That Have Gone Down In Missouri History
Winter in Missouri certainly is beautiful, especially with the landscape capped in snow. However, winter can also get downright brutal, bringing some or all of the state to a bitterly cold standstill. These horrific winter storms in Missouri are ones we probably won't forget any time soon (if at all) and serve as a reminder that, although beautiful, winter can sometimes pack a powerful, dangerous punch.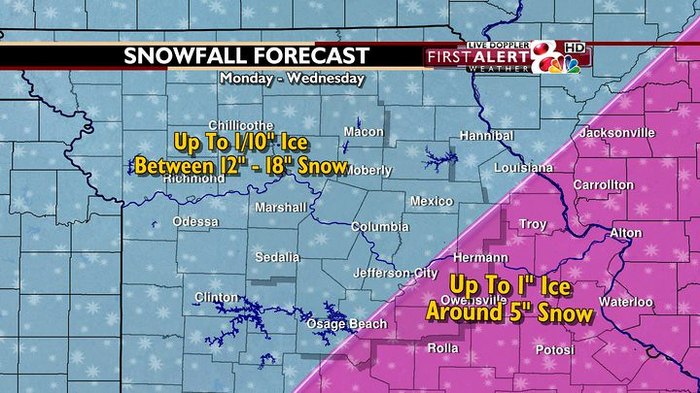 Do you remember these winter storms in Missouri? What others would you add to the list? Any recent ones or ones that saw record snowfall in Missouri? Join the conversation in the comments! Then take a peek at the 10 things no one tells you about surviving a Missouri winter.
OnlyInYourState may earn compensation through affiliate links in this article. As an Amazon Associate, we earn from qualifying purchases.
More to Explore
Winter Storms In Missouri
What can I expect during winter in Missouri?
If you're going to spend winter in Missouri, you must know what to expect. Like the dangers of freezing rain; the resulting ice causes quite a few problems on roads and bridges. Be prepared, too, to scrape the ice off of your windows A LOT. While you'll have to worry about snowstorms and the occasional blizzard, did you know that Missouri's also known for winter flooding? While there are some downsides to winter in Missouri, don't forget the fun – sled riding, skiing, snowball fights, ice skating, winter hikes, and building snowmen.
Are there any perfect hikes for winter in Missouri?
If you absolutely love winter, you probably want to spend as much time as you can outdoors, especially after a fresh snowfall. You'll find no better way to get outdoors than to go on a refreshing winter hike in Missouri. For spellbinding views, the Bell Mountain Loop Trail in Belleview is the trail to follow. Just be prepared for the challenge as it measures nearly 12 miles in length. The Lone Wolf Trail in Ballwin, the trails at Shaw Nature Reserve in Gray Summit, and Whispering Pines Trail in Ste. Genevieve are all worth a trek, too. If you want to see the tallest waterfall in Missouri, Mina Sauk Falls, capped with snow and ice, go on the Mina Sauk Falls Trail in Middlebrook.
Have there been any natural disasters in Missouri?
Missouri's rich history offers plenty of heartwarming moments and some heart-wrenching ones. See how many of these natural disasters in Missouri you remember. The Great Flood of 1951, for example, took 17 lives, left more than a half of a million Missourians homeless, and cost nearly a billion dollars in damage. You might have heard of the famous earthquakes of New Madrid, a series of earthquakes in 1811 and 1812. More than 1,000 earthquakes hit in that time, with some measuring nearly an 8.0 magnitude. December of 2005 saw the flooding of Johnsons Shut-Ins, which destroyed a nearby campground and shut the natural attraction until 2009. Fortunately, no lives were lost in the natural disaster.
Related Articles
Featured Addresses