These 13 Abandoned Places In St. Louis Are Absolutely Haunting
One of the hardest challenges any city faces is what to do when properties are abandoned. St. Louis, like many major cities, is trying to find a good answer to this problem, but it is not an easy task. Property owners are often hard to find and there is never enough money for what always seems to be a costly clean-up. While the city waits on the next steps, these abandoned places in St. Louis are slowly being reclaimed by Mother Nature.
Note: Many of these abandoned places are located on private property and are not open or accessible to the public. Trespassing is a crime and the deteriorated state of these buildings makes them unstable and dangerous. Use your noggin and do not attempt to enter – explore them vicariously through these photos instead!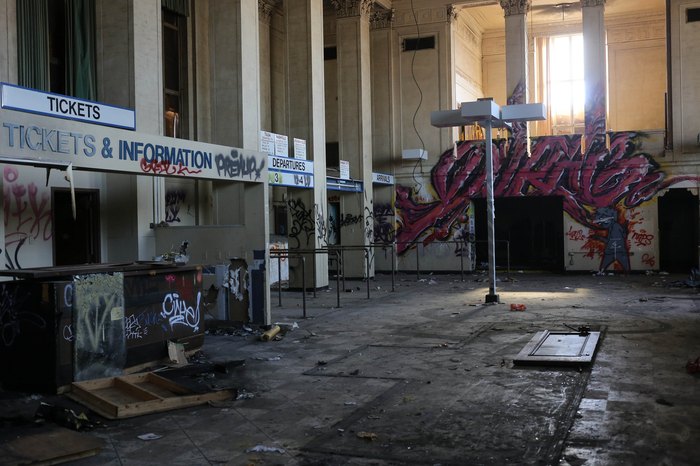 For a more upbeat side of St. Louis life, check out these photos that highlight the positive changes our city has experienced over the years.
Address: St. Louis, MO, USA
Address: Wainwright State Office Building, 111 N 7th St, St. Louis, MO 63101, USA
abandoned places in St. Louis
September 09, 2022
Can I visit any abandoned places in St. Louis?
We know we just spent a good chunk of time reminding you not to venture into abandoned places, but there are a few abandoned places in Missouri that you are allowed to visit, both safely and legally. About 30 minutes outside of St. Louis you'll find the Lost Valley loop trail, a 7-mile loop trail in St. Charles that will take you along an abandoned road, a tunnel, and the remains of an abandoned town. 
Are there any haunted hotels in St. Louis?
Located in Hillsboro, the Morse Mill Hotel is considered one of the most haunted hotels in the St. Louis Area. The hotel opened in 1856, and over the 150+ years it has been in operation, both guests and staff have reported strange experiences ranging from disembodied voices to specific cooking smells coming from the kitchen when no one has been cooking. 
What are the most haunted places in St. Louis?
It doesn't get much creepier than a haunted prison. The Missouri State Penitentiary was open from 1836-2004, but there are many people who believe that the prison is haunted by former prisoners who can't move on. If a haunted prison is just a little too much, you can always go ghost hunting on Zombie Road, one of the most haunted streets in Missouri. Located near St. Louis in Wildwood, this road was one of the main routes used during the Civil War, and although it may look inviting during the day, at night this haunted street is a known hotspot for paranormal activity.
Address: St. Louis, MO, USA
Address: Wainwright State Office Building, 111 N 7th St, St. Louis, MO 63101, USA