The Most Delicious Missouri Road Trip Takes You To 7 Hole-In-The-Wall BBQ Restaurants
We, Missourians, love our BBQ – and it's no wonder why. We've got some of the most delicious BBQ restaurants in the entire country. So it's only natural that we hit the highway on a road trip to some of the tastiest hole-in-the-wall joints serving BBQ in Missouri.
The following one-of-a-kind road trip will take you to all corners of the state to some of the best BBQ in Missouri. If you're ready for some lip-smackin' grub, feel free to reference this interactive Google Map. You can also customize this route to meet your needs, interests, and timeframe. If your stomach is starting to growl, read on to learn more about this memorable Missouri road trip.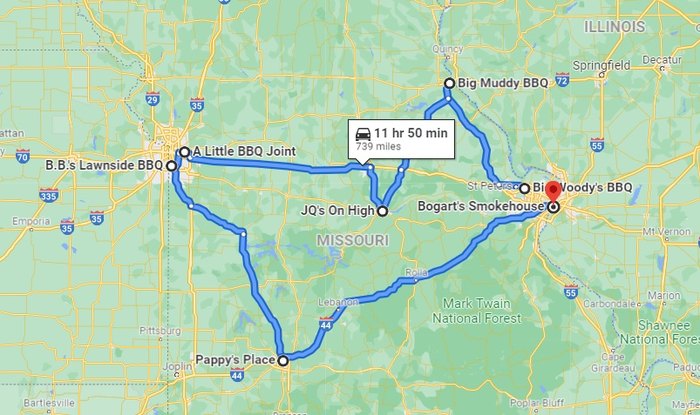 Are you ready for the most delicious road trip of your life? Then hit the highway to seven of the best hole-in-the-wall BBQ in Missouri. Which one is your favorite? Let us know in the comments!
If you're still hungry after your epic food tour, take a look at where to find some of the best BBQ sandwiches in Missouri too.
OnlyInYourState may earn compensation through affiliate links in this article.
BBQ In Missouri
February 20, 2023
Where are the best Missouri BBQ restaurants?
Take a look here for some of the best BBQ restaurants when you're in Missouri:
Where can I find the best BBQ sandwich in Missouri? 
If you're in the mood for an epic meal, head to Flat Creek Restaurant in Flat Creek for their epic BBQ sandwich. Along with being tasty, their signature sandwich is 1 pound of brisket and pork combined. The infamous meal is also topped with onion rings, bacon, cheese, and bbq sauce. Yum!
What are some of the best restaurants in Missouri?
Aside from Missouri BBQ, here are some of the best restaurants in the state.
Broussard's Cajun Cuisine in Cape Girardeau
Lambert's Café in Sikeston
Blueberry Hill in St. Louis
Booches Billiard Hall in Columbia
Bristol Seafood, Steak + Social in Kansas City
Stewart's Restaurant in Lake Ozark
Learn more about these and other restaurants in Missouri. Take a look at this piece about the best restaurants to go to in Missouri throughout the year.