21 Rare Photos Taken In Missouri During The Great Depression
The Great Depression began in the United States soon after the stock market crash in October 1929. This sent Wall Street into a panic and wiped out millions of investors. For the U.S., it lasted through the entire 1930s and was the deepest and longest-lasting economic downturn in the history of the Western industrialized world. For some countries, it took even longer to recover. Some of the hardest hit economically were the working poor such as farmworkers, miners, loggers, and factory workers. Unemployment rose to as high as 25 percent in the U.S. and as high as 33 percent in other countries. Cities dependent on industry such as St. Louis and Kansas City were hit hard, and construction basically stopped completely. Here are some rare historic photos taken in Missouri gathered by the Photogrammar, a web-based platform for organizing, searching, and visualizing over 170,000 photographs from 1935 to 1945. The site was created by the United States Farm Security Administration and Office of War Information (FSA-OWI). These photos give you a glimpse into Missouri history.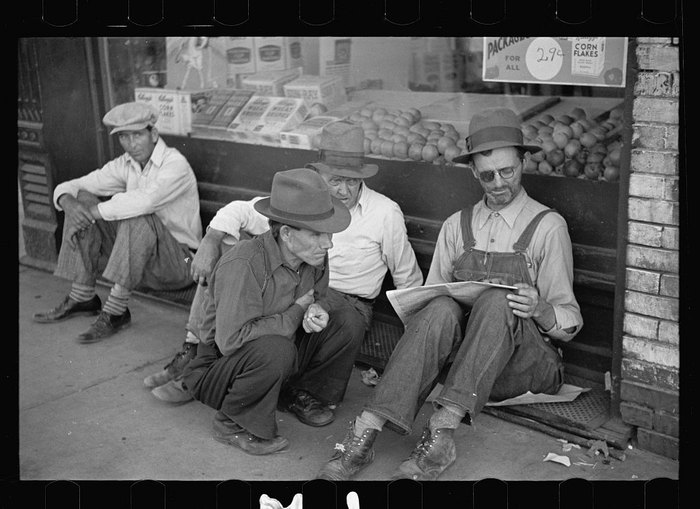 What are your thoughts on these historic photos taken in Missouri? Do you have any family stories about Missouri during this time? Were you there? What picture of Missouri history is most interesting to you? Let us know in the comments below.
OnlyInYourState may earn compensation through affiliate links in this article.
historic photos taken in Missouri
December 01, 2021
What are some of the most historic buildings in Missouri?
Anheuser Busch Brewery
Eads Bridge
Jefferson National Expansion Memorial
Graham Cave
Liberty Memorial
… and many others!
If you're fascinated by history, you'll find Missouri has no shortage of remarkable buildings, historic landmarks, and points of interest. The following is a list of some of the most fascinating historic sites in Missouri that you'll want to make a point of visiting: the Anheuser Busch Brewery in St. Louis, Eads Bridge in St. Louis, Gateway Arch and the Jefferson National Expansion Memorial in St. Louis, Graham Cave in Montogmery County, Liberty Memorial in Kansas City, Missouri Botanical Gardens in St. Louis, Harry S. Truman Historic District in Independence, Mark Twain Boyhood Home in Hannibal, Wilson's Creek National Battlefield in Republic, the Ulysses S. Grant National Historic Site in St. Louis, George Washington Carver National Monument in Newton, Fort Osage in Sibley, Scott Joplin Residence in St. Louis, Mutual Musicians Foundation Building in Kansas City, Patee House in St. Joseph, Union Station in St. Louis, and Laura Ingalls Wilder House in Mansfield. Learn more about what makes these historic sites in Missouri so important.
Does Missouri have any hidden gems?
Mark Twain Landing
Rockbridge Memorial State Park
Big Cedar Lodge
Wild Animal Safari
Absolutely! Whether you're fascinated by historic sites, natural wonders, or little-known attractions, you'll find that Missouri holds its fair share of hidden gems. Some of our top recommendations for experiencing Missouri as the locals do would be Prairie Garden Trust in New Bloomfield, Ha Ha Tonka State Park in Camdenton, Mark Twain Landing in Monroe City, Rockbridge Memorial State Park in Columbia, Big Cedar Lodge in Ridgedale, Wild Animal Safari in Strafford, Kozy Kaboose at the St. Louis West KOA Campground, Stone Soup Cottage in Cottleville, and Wakonda State Park in La Grange. Find out more about these must-see hidden gems in Missouri.
OnlyInYourState may earn compensation through affiliate links in this article.