This One Creepy Ghost Town In Missouri Is The Stuff Nightmares Are Made Of
Although Avilla has a population of 100 or so residents, it is considered one of the "living ghost towns of Historic Route 66." This rural village was founded in 1856 and is the fourth oldest settlement in Jasper County, Missouri. It has a rich history and a bit of a dark past. Interestingly, some people say the darkness still haunts the once thriving town. To learn more about Avilla, a ghost town in Missouri, take a look below.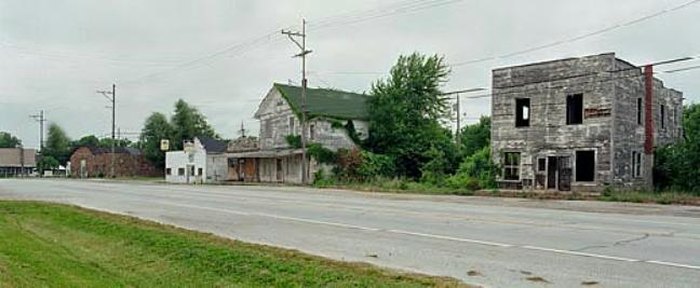 US Route 66 was re-designated Missouri Route 96 in 1985, but by then, Avilla was already the quiet rural community that it continues to be today. Have you ever been to Avilla, Missouri? If so, did you have a paranormal experience? Let us know in the comments below.
OnlyInYourState may earn compensation through affiliate links in this article.
More to Explore
ghost town in missouri
What are three of the most haunted places in Missouri?
There are several creepy places in Missouri where people have been known to experience paranormal activity. Listed below are three of these places, including information about why they're some of the most haunted places in Missouri.
1. Peace Church Cemetery
Peace Church Cemetery is located in Joplin, Missouri and is the final resting place of Billy Cook. During the 1950s, Billy killed six people, which led to his execution in the gas chamber. Many visitors of Peace Church Cemetery have reported seeing Billy's ghost. Many people have also claimed they were hit by thrown objects even though nobody else was present.
2. Hotel Bothwell
Missouri's Hotel Bothwell, which is located in Sedalia, is a 1927 Jazz-era hotel that has seen its fair share of paranormal activity. Several guests of this hotel have reported everything from ghost sightings and strange voices, to doors closing on their own. Many of them have also reported objects missing from their rooms. Although Missouri's Hotel Bothwell is haunted on all floors, the third floor is believed to be the most haunted.
3. Lemp Mansion
The historic Lemp Mansion is located in St. Louis, Missouri and currently serves as a restaurant and inn. Based on the number of suicides and other deaths within the Lemp family that took place at this mansion, it's one of America's 10 most haunted places. Lemp Mansion is supposedly haunted by several ghosts of the Lemp Family. But that's not all. William Lemp, Jr. had an illegitimate son that he hid away in the attic. Today, this son, known as the "Monkey-faced boy," supposedly haunts the attic of Lemp Mansion.
What's one of the creepiest ghost stories in Missouri?
There have been several ghost stories told in Missouri. One of the most popular and creepiest ghost stories in Missouri is the story of Momo the Monster. Momo means "Missouri Monster," and that's just what Momo is. According to witnesses, Momo is approximately seven feet tall and has a pumpkin-shaped head. He also has orange glowing eyes and a face covered in long wiry hair. Momo is an ape-like creature similar to Bigfoot. He supposedly smells really bad and strolls up and down the Mississippi River killing animals and scaring people. In 1971 and 1972, several people reported the sighting of Momo in Louisiana, Missouri.
Related Articles
Explore Missouri
Featured Addresses