Canton Turns Into A Winter Wonderland Each Year In Mississippi
The South may not be the stereotypical winter wonderland you see in Hallmark movies, but it has a charm of its own each winter. So many of Mississippi's towns are dressed up for the holidays each year, but one in particular is a real winter wonderland. Take a look at the little town of Canton, the very best winter town in Mississippi: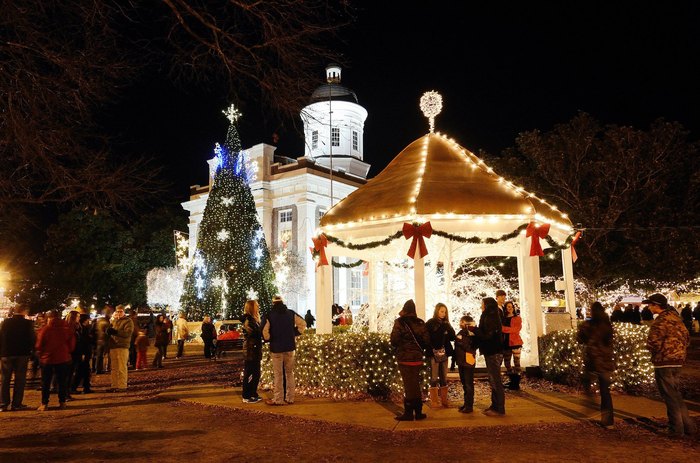 It's no secret that Canton is the very best winter town in Mississippi. Have you ever visited this incredible community? What do you think are the most festive towns in Mississippi? We'd love to hear about your favorite holiday attractions in the comments below!
If you're looking for more wintery fun this season, take our Christmas lights road trip!
OnlyInYourState may earn compensation through affiliate links in this article.
Address: Canton, MS 39046, USA
Best Winter Town In Mississippi
October 27, 2019
What other places are the most festive towns in Mississippi?
There's no better place to treat yourself to a Christmastime getaway than The Hospitality State. Mississippi has some of the nicest people in the world, and it also is overflowing with holiday spirit in the cooler months. The most festive towns in Mississippi feature incredible displays that are worthy of a Hallmark movie, and they are plentiful enough to merit a holiday lights road trip. Columbia is another winter wonderland state in Mississippi that's worth a visit… just remember to bring the camera, because you'll make memories that you will want to cherish for years to come.
What are the best things to do for Christmas in Mississippi?
The holidays are all about making heartfelt memories, so you'll want to explore our gorgeous state with the people you cherish most. If you are in search of places to visit in winter in Mississippi, we recommend you take a candlelight tour of the historic Landrum's Homestead. You'll also adore a visit to our most anticipated drive-through displays, like the one in Tylertown.
What kinds of activities can I do in winter in Mississippi?
There's no shortage of things to do in the winter here in Mississippi! Aside from seasonal attractions centering on holiday fun, you will also adore wintertime hikes through our many parks. You can visit an area zoo, or cozy up in a teeny tiny restaurant with big flavor. There's much more to do in Mississippi than you can imagine, so set out with an open mind and you're sure to have a memorable experience in our magical state.