6 Easy-Access Minnesota Waterfalls That Are Perfect For A Summer Adventure
Minnesota may be known for its more than 10,000 lakes, but our beautiful state has many other bodies of water to discover, too. From trickling creeks to rapid rivers to wildlife-filled marshes, you'll find plenty of beauty in all of Minnesota's different waterways. If you've ever found yourself wondering are there any amazing waterfalls near me? well, no matter where in the state you're at, the answer is probably yes! Many of the state's rivers and streams lead to one of nature's most beautiful offerings: waterfalls. All across the state, you'll find breathtaking falls that draw visitors from miles around. While some require a hike to get to, there are many that are easy to access for just about everyone. Below, you'll find six of Minnesota's most beautiful easy-access waterfalls. They're perfect for a summer adventure!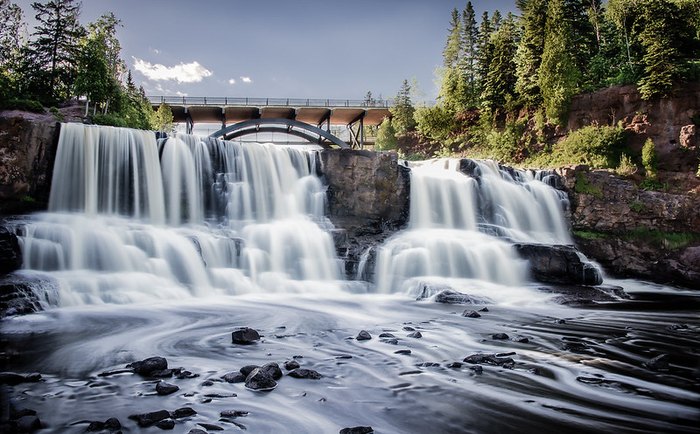 Have you visited any of these waterfalls? Do you have any other favorites? Let us know! And if you're looking for a waterfall that is a bit more challenging, check out our article about the little-known Kawishiwi Falls in Ely, Minnesota.
OnlyInYourState may earn compensation through affiliate links in this article.
Waterfalls Near Me
March 23, 2022
What are some of the most amazing hiking trails with waterfalls in Minnesota?  
A great musical group once said, "Don't go chasing waterfalls." Well, we would agree with them... if they weren't wrong. Chasing waterfalls is one of the most epic things you can do outdoors, if you ask us, and Minnesota is perfect for the occasion. There are a lot of trails that involve waterfalls in some way or another – more than 50 of them! Some of our favorites just so happen to be among the most popular (after all, they are beloved for a reason), like the Fifth Falls and Superior Hiking Trail Loop, which is nestled within Gooseberry Falls State Park. This easy, three-mile hike leads to what is easily one of Minnesota's most awe-inspiring cascades. Or, head to Tettegouche State Park and take in the wonder that is the Baptism River Falls on a relaxing, moderately challenging 2.9-mile hike. Want some ideas that won't require a hike at all? Check this article out for several! 
How many waterfalls in Minnesota are there?  
Minnesota is called the "Land of 10,000 Lakes," and with all that water there are sure to be some waterfalls. In fact, there are more than 100 waterfalls that not only have official names but are also the perfect destination for a family day trip or a self-care date with yourself. The largest waterfall in Minnesota is right on the Canada/US border and nestled within Grand Portage State Park; it's 120 feet tall and absolutely stunning – and appropriately named "High Falls". Perhaps the oddest waterfall in Minnesota is the Devil's Kettle; one-half of it plunges 50 feet down into a crystalline pool that eventually drains into Lake Superior, but nobody knew where the other half of it went and ended up until 2017, when scientists discovered the water flows underground and resurfaces later, much further downstream. Minnesota is a wonder-filled destination for nature enthusiasts, and we're confident that even just one visit is enough to make you fall in love with this beautiful state.