Take This Gorgeous Fall Foliage Road Trip To See Maine Like Never Before
Maine is undeniably beautiful at any time of year, but we're a bit more partial to the fall. Maybe it's because we've had a nice long exit from summer into fall and we've had some time to appreciate the leaves turning the glorious reds, yellows, and orange that dot the landscape each October. When the leaves are showing us their colors, it's time to take a fall foliage road trip in Maine and see some of the best examples of the best fall foliage in Maine.
This adventure is full of the best things to do in the fall in Maine. Follow this route for the exact map and directions and we promise you'll see some beautiful scenery, mixed with a stop or two for meals and attractions. Once you've done the trip, show us a photo of your favorite fall colors over on our Facebook page!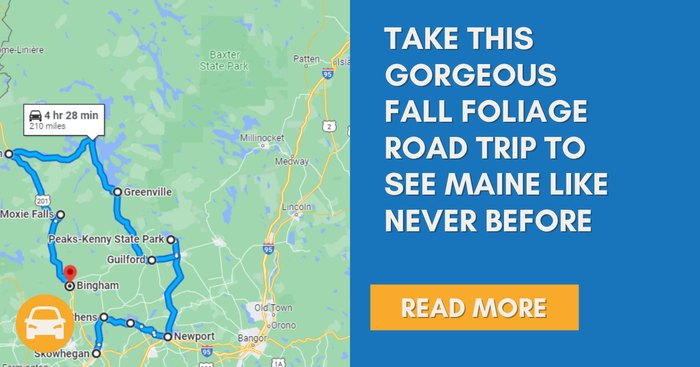 Nothing is quite as beautiful as Maine in the fall. Are you ready now to take a fall foliage road trip in Maine? Let us know what your favorite places are to see fall colors in Maine in the comments below. Don't forget to bring along some of the best road trip snacks for your fall journey!
Looking for other fun Maine road trips? Check out this spooky road trip that will take you through some of Maine's most haunted places.
OnlyInYourState may earn compensation through affiliate links in this article. As an Amazon Associate, we earn from qualifying purchases.
More to Explore
Best Fall Foliage In Maine
What is the best time to see peak fall foliage in Maine?
The best time to see peak fall foliage in Maine is mid-September to October, but can vary from year to year so make sure to check out when to see fall colors in Maine ahead of time.
You'll find peak fall foliage during Columbus Day Weekend, but gorgeous autumn colors can be seen as early as September. Plan ahead and soak up the stunning sights. Maine's whimsical autumn is meant to be enjoyed. 
Where are the best places in Maine to see the fall foliage?
Some of the best places to see fall foliage in Maine are:
Acadia National Park glistens with fall colors, and people love venturing here to see the views. The gorgeous granite rocks and glimmering shoreline look even more spectacular amongst the crimson fall trees. People also love going to Baxter State Park during the autumn months. This natural wonderland offers breathtaking views of Maine's vibrant colors.
What are the best Maine hikes to take in the fall?
The best fall hikes to do in Maine are:
Little River Community Trails
Little River Community Trails, located in Belfast, are some splendid fall hikes. Here, you can walk along the colorful trees and feel the refreshing crisp air. Higgins Mountain is another short and sweet fall hike. A nice stroll, located in Reid State Park in Georgetown, is only half a mile, but it's jam-packed with astonishing sights. Step Falls Trail, located in Newry, is a breezy one-mile trail that takes you to a rushing waterfall. This easy hike is perfect for all skill levels.
Related Articles