This That And More Flea Market Is A Charming And Out Of The Way Louisiana Destination
Flea markets are a great place to visit when you're looking for something unique to add to your home. Sure, you could always buy brand-new furniture, but there's something exciting about bringing home a piece with a history; one that tells a story from a Gonzales flea market. Whether you're looking to complete a collection or your next DIY project, a visit to This That & More Indoor Flea Market in Gonzales is a great place to start.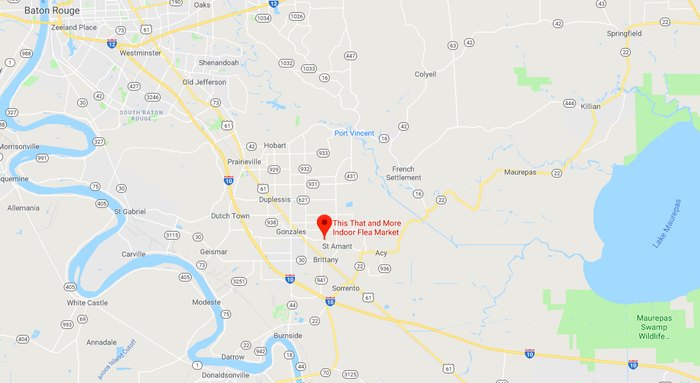 Have you ever been to this charming indoor flea market? Let us know in the comments! And be sure to check out even more awesome flea markets in Louisiana.
OnlyInYourState may earn compensation through affiliate links in this article.
Address: 43123 Weber City Rd #7833, Gonzales, LA 70737, USA
The Best Shops and Markets in Louisiana
March 07, 2023
What are the best thrift stores in Louisiana?
The best thrift stores in Louisiana include:
Bayou Chic Uniques & Antiques. This is a combination thrift store and antique shop that sells all sorts of oddities from decades past.

Junk Masters. This is where you can find old-fashioned furniture, art, and vinyl, and there's so much here that you could spend all day perusing what's here.

No Fleas Market. This is a pet-friendly store where the profits benefit local shelters and animal rescue groups.

The Purple Cow. This thrift store organizes clothes by color, making it easy to find just what you're looking for.
Find out more about the best thrift stores in Louisiana. 
What are the best supermarkets in Louisiana?
The best supermarkets in Louisiana include:
Alexander's Highland Market. This market offers local foods like jellies, sausages, cheeses, gumbos, and a lot more.

Sunshine Health Foods. This is a wonderful store for fresh, organic produce and a dairy that has gluten-free and dairy-free options.

Central Grocery. This is an Italian shop that's been around for years selling rare ingredients and a tasty muffuletta.

Fremin's. This is a family-owned and operated market that's been operating since 1941 that sells food and furniture all in the same shop.
Discover more about the best supermarkets in Louisiana.  
What are the best general stores in Louisiana?
The best general stores in Louisiana include:
Bayou Country General Store in Slidell. This is a gigantic general store with a wide selection of local products including spices, hot sauces, and Cajun cuisine.

Don's Country Store in Reserve. This old-fashioned country store has been serving local residents for several decades.

Kaffie-Frederick General Mercantile in Natchitoches. This is the oldest general store in the state, having been running for over 150 years.

W.H.Tupper General Merchandise Museum in Jennings. This old general store is also a museum showing the kinds of items that were sold long ago.
Learn more about the best general stores in Louisiana.