The Underrated Beach With The Whitest, Most Pristine Sand In Kentucky
As a landlocked state, you may not think of Kentucky as the home of beautiful beaches. But it turns out, our state has a plethora of spots to dig your toes into the sand and look out over sparkling water. One of those places arguably has the most pristine sand you'll find in Kentucky, along with breathtaking surroundings and a lake ready for you to cool off. Pennyrile Forest State Resort Park is probably the most beautiful white sand beach in Kentucky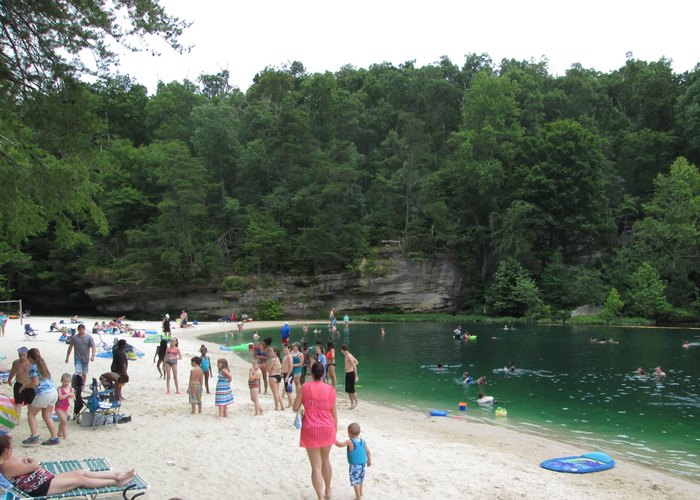 The next time you're planning a vacation to one of the beautiful beaches in Kentucky, or even just want a day in the sand, look no further than Pennyrile in Western Kentucky. Have you spent a day at this beautiful beach in Kentucky? Do you have other favorite Kentucky beaches? Let us know in the comments below! Pennyrile Forest State Resort Park is located at 20781 Pennyrile Lodge Rd. Dawson Springs, KY, 42408. The beach opens for the season on Memorial Day weekend. For more info on the park, visit their website here, and check out this commercial for the park!
And for an epic road trip that stops at several of the state's most beautiful beaches, check out this hidden beaches in Kentucky road trip.
OnlyInYourState may earn compensation through affiliate links in this article.
Address: 20781 Pennyrile Lodge Rd, Dawson Springs, KY 42408, USA
Beautiful Kentucky Beach
March 11, 2021
What are some of the best Kentucky beaches?
There are a variety of beautiful beaches in Kentucky. Many beaches offer incredible mountain views, and one of the best is Buckhorn Lake State Resort Park in Kentucky. This underrated sandy beach is ideal for relaxing, playing, and soaking up the sun -- and it's absolutely one of the best beaches in Kentucky! If you'd like to combine camping with the best sandy beach in Kentucky, head to Zilpo Campground at Cave Run Lake. This gorgeous lake is best viewed when lounging on this scenic, beautiful beach.
What are the best beach towns in Kentucky?
Despite being a landlocked state, Kentucky is full of beautiful beaches, resplendent rivers, and stunning lakes! And if you want to embrace beach town vibes, there are a few beaches in Kentucky that are close to charming, small towns. Gilbertsville is located adjacent to Kentucky Dam Village State Resort Park and a sandy beach. For a true coastal feel, Grand Rivers is absolutely delightful; this lakefront beach town in Kentucky has its very own lighthouse, a charming bed and breakfast, boat rentals, and beautiful hiking. You can visit more adorable beach towns in Kentucky on this epic road trip.
Where are some lakeside campgrounds in Kentucky?
It's always camping season in Kentucky, and if the weather is warm, you may want to find a campsite that is right on the water. The Bluegrass State is full of gorgeous lakes, with several offering lakeside camping, in fact. Some of our favorite lakeside campgrounds in Kentucky include:
Nolin Lake State Park in Mammoth Cave, KY. If you're looking for a quiet campground with an abundance of natural surroundings, this is a spectacular option.
If you want unlimited amenities by the lake and some of the best family camping in Kentucky, Kentucky Lake/Prizer Point KOA is the campground for you. Situated on the Intracoastal Waterway, they have just about everything you'd want in a camping experience, including beautiful waterfront sites for both tents and RVs.
On Laurel River Lake, Holly Bay boasts 28 wooded sites right near the water. This is beachside camping at its finest!