Kentucky's Home to the Largest and Most Haunted Victorian Neighborhood in America
Old Louisville Victorian homes are the largest section of preserved Victorian homes in the world. Each one of these houses is an artistic work of architecture with a story. Sometimes these tales are told by the original occupants, as they appear and disappear around current residents. Belgravia Court began in the late 1800s with land owners building Victorian mansions in a variety of unique styles, uncommon in Louisville at the time. As a matter of fact, some of the original landlords loved the designs so much, they decided not to leave.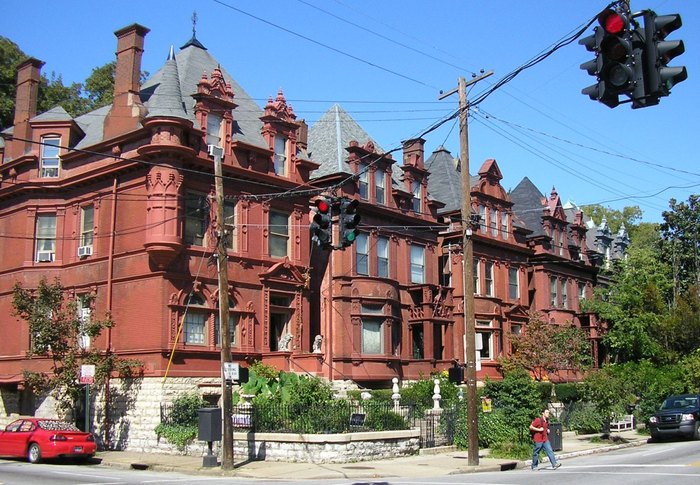 Old Louisville has been featured in multiple books, such as "Phantoms of Old Louisville," and on shows such as Ghost Hunters. It has also been featured on the news and in other media, and for good reason. It is beautiful and it is haunted. Occasionally, people live in the neighborhood and don't experience anything odd. However, most of us have seen or felt a few out-of-the-ordinary moments over the years. This community is a vortex of unique spiritual energies, Kentucky history, and beautiful architecture. There are many stories to tell and incredible works of architecture to be seen in Old Louisville — so expect more in the future.
Have you, or would you ever want to visit the Old Louisville homes? We love the ambiance of the area and many of these images were taken during a recent visit. Please feel free to share your own Old Louisville experiences or photos.
For another ghost story to chill you check out this one that takes place in a cemetery.
Address: Old Louisville, Louisville, KY, USA
OnlyInYourState may earn compensation through affiliate links in this article.
Haunted Places In Kentucky
September 08, 2022
What are the buildings like in Old Louisville?
Apart from the creepy stories that come out of the neighborhood, Old Louisville is filled with historic and beautiful buildings. Check out the amazing buildings in the article above and prepare your trip to view these preserved Victorian structures. 
What are some other haunted places in Kentucky?
With Old Louisville being one of the most haunted neighborhoods in the country, it might seem like all of the ghosts hang out there. However, we still have plenty of other creepy places if you are not too scared to jump in. First off, there is a tunnel in the middle of the woods with a dark story. The back story is interesting enough, it involves outlaws, a witch, and cursed money. The tunnel is on private property so you will have to seek permission to use it but the pitch-black tunnel is creepy all by itself. You can go for a drive down a beautiful road during the day, but at night everything changes. What starts as a pretty fall foliage drive takes a sinister turn. The section of the road is even nicknamed Sleepy Hallow and it is said to have a horse-drawn buggy appear out of thin air. The driver will often send frightened people off the road. So, go for a ride, if you dare.
Back in Louisville, there is an old abandoned Sanatorium. During an outbreak of sickness, this place experienced lots of death, however, tales of mistreatment within the walls have now broken out. Weird experiments may have been a factor in many untimely deaths, but now those lost souls haunt the Sanatorium. If you want to make a day trip to all the bone-chilling locations in Kentucky, then we suggest you start with this haunted road trip. You will begin in Louisville and continue from there. Take to the road and happy hunting!
Address: Old Louisville, Louisville, KY, USA
OnlyInYourState may earn compensation through affiliate links in this article.