The Kentucky Restaurant That's One Of The Most Unique In America
One of the best parts of trying out new restaurants is the experience. Sure, great food and service are all a restaurant really needs to make its customers happy, but if you add in a whimsical atmosphere and an antique shop full of beautiful items for sale, people are going to really remember that particular place. The most unique restaurant in Kentucky is located just outside of Versailles in the small town of Nonesuch.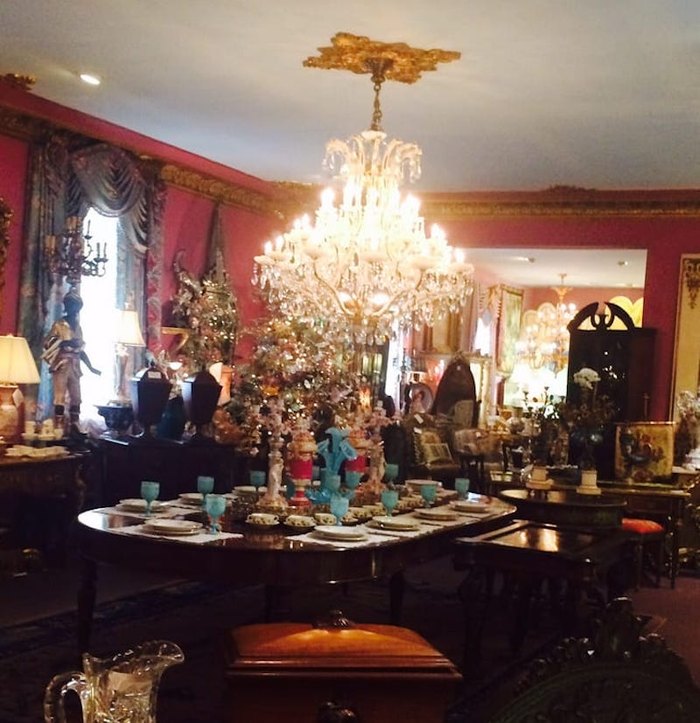 The Glitz is seasonal, open from April through December from 11:00 AM until 1:30 PM Wednesday through Saturday. It is closed from Sunday through Tuesday. The gallery and restaurant are located at Address: 4205 Ford's Mill Road, Versailles, KY 40383. For more information or to make reservations once April rolls around, visit their Facebook page or website.
What do you think is the most unique restaurant in Kentucky? Be sure to let us know in the comments and also check out another one-of-a-kind eatery in the Bluegrass State.
Address: 4205 Fords Mill Rd, Versailles, KY 40383, USA
OnlyInYourState may earn compensation through affiliate links in this article.
Most Unique Restaurant In Kentucky
March 07, 2021
What are the best hidden gem restaurants in Kentucky?
There are many hidden gem restaurants around the Bluegrass State, some are found off the beaten path while others are hiding in plain sight. If you are looking for some of the best comfort food the state has to offer, Boujie Biscuit is a hidden gem you need to try. Try a from-scratch biscuit smothered in gravy for some stick-to-your-ribs goodness at this charming Lousiville restaurant. Hidden away in Hardyville, Devore's Restaurant and Grocery is a local favorite with a simple yet delicious menu that's definitely worth a stop! 
What food is Kentucky known for?
From the open-faced sandwich known as the Hot Brown with turkey and bacon which is then smothered in Mornay sauce on top of Texas toast to the thick, flavorful slow-cooked stew known as burgoo, the Bluegrass State is home to some incredibly rich mouthwatering food. For more regional creations, head to our previous article on famous foods from Kentucky.
Where are the best comfort food restaurants in Kentucky?
Kentucky is just chock-full of amazing restaurants serving comfort food that the South is known for. Biscuit Belly, located in the Lousiville's NuLu neighborhood, has biscuits and creative takes on traditional Southern foods. They even cater to vegetarians. Share a basket bonuts (biscuit donut holes) with the table and then try one of their biscuit creations, after all, that's what they are known for! They even have chocolate gravy which is a must-try. Head to Erlanger for more comfort food from Colonial Cottage which has been open since 1933. Order their fried chicken which made them famous.
Address: 4205 Fords Mill Rd, Versailles, KY 40383, USA
OnlyInYourState may earn compensation through affiliate links in this article.