8 Easy Hikes To Add To Your Outdoor Bucket List In Louisville
Don't be intimidated by hiking if it's an activity you don't do all that often; there are plenty of beginner trails in Louisville that are easy to complete and offer amazing views of Kentucky's natural beauty! These parks are great places to take the kids for a day of family fun and outdoor exploration, or to explore on your own when you just need a break from the buzz of city life. From waterfall hikes to forest fairy tale adventures, check out this list of easy treks that we think everyone should try — they're some of the best hikes in Louisville… and Kentucky!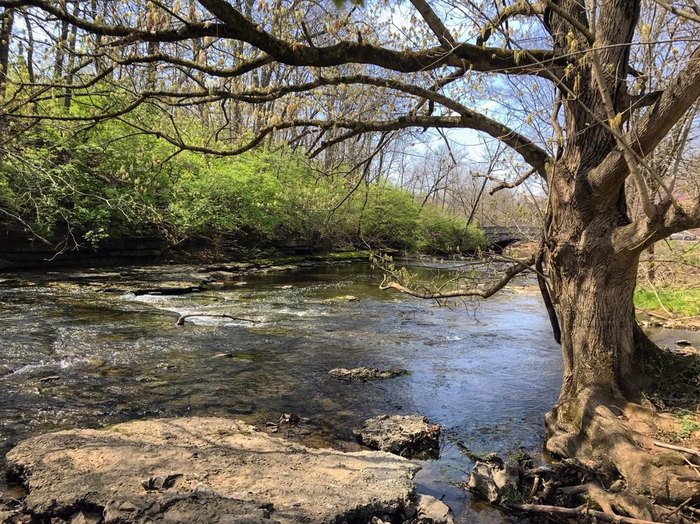 What are your favorite hiking trails in our little corner of the Bluegrass State? Are there any treks in your neck of the woods that you think should be added to this list of the best hikes in Louisville? Let us know in the comments below or on Facebook! If you liked this article, check out these beautiful waterfalls hidden in the city.
OnlyInYourState may earn compensation through affiliate links in this article. As an Amazon Associate, we earn from qualifying purchases.
More to Explore
Best hikes in Louisville
What are the best waterfall hikes in Louisville?
Waterfall hikes abound in Louisville, Kentucky... you just need to know where to look! Luckily, we're here to help! Located just about 25 minutes from downtown Louisville, Fairmont Falls is one of the largest falls you can find in the area. Get out your hiking shoes and go explore these beautiful falls -- just make sure you reserve a permit ahead of time. Another waterfall near Louisville we love chasing is at Beckley Creek Park. Located in East Louisville, Beckley Creek Park has amazing hiking trails and a lovely waterfall. This park offers many ways to relax in nature and one of the best is this boardwalk hike in Kentucky. This easy path leads to incredibly scenic views, waterfalls included, making this park a perfect place for a romantic stroll or solitary hike. Here are six other falls near Louisville worth seeking out!
What are some scenic places near Louisville?
If you're looking for a hike with a stellar view, there are some truly incredible treks right here in Louisville. As mentioned above, the Iroquois Park Overlook is one of the most spectacular. It's a popular place for all sorts of festivals and events, this park is also a wonderful day trip destination for those looking to escape in nature for a bit. The overlook is located just a stone's throw from Kentucky's largest city; from the top of this perch, you'll enjoy picture-perfect panoramas of Louisville for miles and miles. The path is short — just 1.2 miles — and the views are expansive. If you're looking for a beautiful, short-and-sweet hike in Kentucky, this is it! If you're looking for a scenic vista *and* water recreation all in one, paddle over fossil beds covered by the Ohio River waters at this scenic location. There are some truly amazing views that can't ordinarily be reached on foot that you can only find by water!
Related Articles