10 Unforgettable Road Trips To Take In Kansas Before You Die
If you live in the Sunflower State or you are simply visiting, you know that Kansas is filled with many incredible and unforgettable things to do and see. In fact, there are many must-visit attractions in Kansas and you won't want to miss a single one. If you are ready to explore and have a memorable adventure, head out on one of these 10 best road trips in Kansas.
(Please note: To view the interactive Google Map of each trip in a separate tab or window, simply click on the link beneath each map photo.)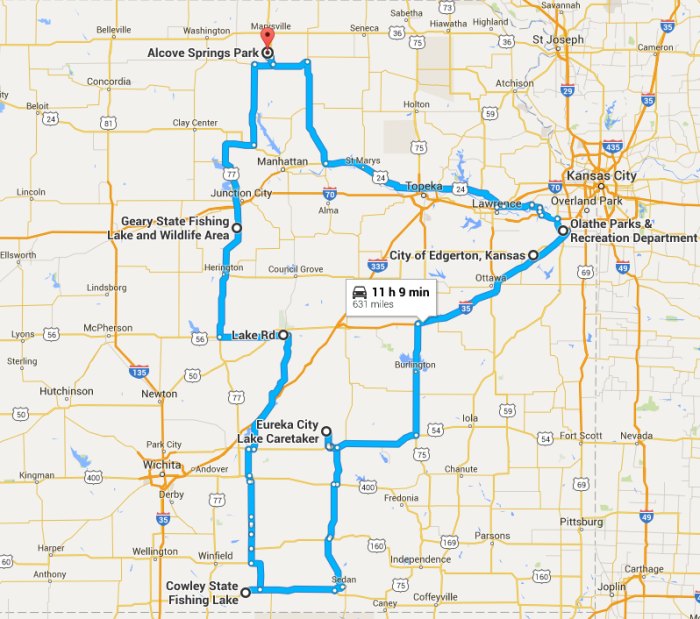 So, which road trip will you take first? Have you taken any of the above road trips through the Sunflower State? If so, we'd love to hear all about your experience!
OnlyInYourState may earn compensation through affiliate links in this article.
Best Road Trips In Kansas
July 29, 2021
What are some of the must-visit attractions in Kansas?
Kansas is so much more than prairies and large sunflower fields. There is a long list of must-visit attractions in Kansas that you will not want to miss. For the ultimate day trip in the Sunflower State, visit Strataca, an underground salt museum. For a unique adventure at this museum, ride the Salt Mine Express, a train that is 650-feet below the earth's surface.
If you are searching for one of the best things to do in Kansas and a must-visit attraction, spend the day at Lake Shawnee. This man-made lake has activities the entire family will enjoy such as boating, fishing, a floating playground, and the Ted Ensley Gardens.
What are a few of the best things to do in Kansas?
Kansas is filled with some gorgeous views. Take a ride on the Flint Hills Scenic Byway to capture some stunning and awe-inspiring scenery. You may also want to take this natural wonders road trip around Kansas. On this adventure, you will see many must-visit attractions in Kansas like Monument Rocks, Pillsbury Crossing, and Mushroom Rock State Park.
What are the best day trips in Kansas?
Narrowing down the list of the best day trips in Kansas is no easy feat. No matter what corner of the state you may be located in, there are nearby day trips that are exciting, beautiful, and unforgettable. For example, you may want to enjoy a five-mile float trip down the Arkansas River. You may also want to visit one of the many bizarre and funky roadside attractions that are located around the Sunflower State. Enjoy a day trip in Kansas to the World's largest hand-painted Czech Egg or even the wheat liberty bell. You never know what you will see as you explore this beautiful state.