Keep Your Eyes Peeled, Thousands Of Hummingbirds Are Headed Right For Illinois During Their Migration This Spring
This year's most glorious migration is already underway, and it's something you won't want to miss. This spring, thousands of hummingbirds are headed right for Illinois, and it's one of the most magical things you'll ever see. If you find yourself asking, "When will hummingbirds arrive in Illinois?", keep reading!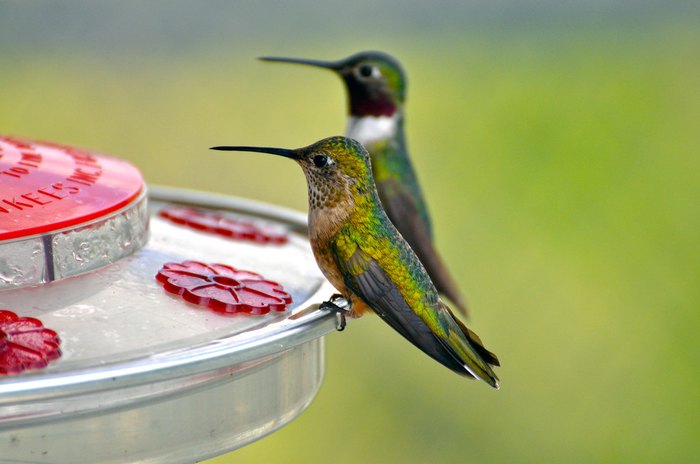 Are you prepared for this year's hummingbird migration? Did you put out a feeder last year? For more information about when the hummingbirds will arrive in Illinois, and how to set up a hummingbird feeder, visit hummingbird-guide.com. And as you prepare to welcome a new season in The Land of Lincoln, you'll definitely want to check out these 11 places in Illinois that completely transform when spring arrives.
OnlyInYourState may earn compensation through affiliate links in this article.
When Will Hummingbirds Arrive In Illinois
February 19, 2021
When will hummingbirds arrive in Illinois?
According to hummingbird-guide.com, the hummingbirds are expected to arrive in Illinois sometime around the fourth week of April. Keep in mind, however, that this is an estimate — and nature follows its own timeline! As such, we recommend setting up your hummingbird feeders by the middle of the month, just in case they show up earlier. You definitely want to be prepared, as the hummingbirds are truly the most delightful and fascinating little creatures, and will absolutely enchant you.
What's Illinois like in the spring?
You know the saying about the month of March — "In like a lion, out like a lamb" — well, that's how it is in Illinois. March starts off cold and wintery, but by the end of the month, spring has arrived. And spring in Illinois is glorious. Mild temperatures, lots of sunshine, and life popping up everywhere you look. We get to witness a dramatic changing of seasons in Illinois, as winter turns to spring. And if you're looking for a front-row seat to the seasonal shift, you'll be awestruck at the transformations that happen at these 11 stunning places.
Where are some good places to go bird watching in Illinois?
If the hummingbird migration has inspired you, you'll be pleased to know that Illinois has lots of beautiful places to go bird watching. Mississippi Palisades State Park is a great place to start; more than 180 species of birds use this area throughout the year, 100 of which breed at the state park. Bring your binoculars, because while you're here, you'll likely see pelicans, hawks, eagles, warblers, herons, hummingbirds, woodpeckers, and much more. Starved Rock State Park is home to 225 bird species, and this popular state park's most recognized bird species is the eagle. Though few Illinoisans know that this beautiful bird comes to roost here each year, those who have seen it try to get a glimpse of one each year. It's spectacular.
OnlyInYourState may earn compensation through affiliate links in this article.