The Ultimate Idaho Waterfalls Road Trip Is Right Here – And You'll Want To Do It
You already know that Idaho is home to one of the most impressive waterfalls in the country, which not only tops Niagara Falls in height, but is so epic during peak runoff that it has been ranked as one of the top ten waterfalls in the entire Pacific Northwest. But did you know that despite our desert climate the Gem State also ranks near the top of the country in terms of waterfall numbers? We have over 60 officially recognized falls scattered across our the state, as well as a plethora of others that are undocumented and unmeasured. Experiencing all of them would make quite the bucket list, which is why they deserve at spot on our Southern Idaho waterfalls road trip!
Southern Idaho is particularly rich with breathtaking waterfalls, courtesy of the Snake River and its tributaries. But, because of Idaho's sheer size and the massive territory covered by the Snake River Plain, it seems waterfall hopping isn't all that easy in the Gem State. Right?
At Idaho Only, we found the vast and all-knowing Internets to be loaded with pages and pages of waterfalls to see in our beautiful state. To keep things manageable, we've chosen seven waterfalls in the lower third of the state — all with relatively easy access — and compiled them into this handy guide for your next weekend adventure. The total trip is a bit over 400 miles with an estimated drive time under 11 hours round-trip; you can see the full Google Map here.
If you've got a weekend to spend experiencing some of Idaho's greatest natural wonders, we've got the info you need. Check it out, and let us know which one you're most excited about visiting!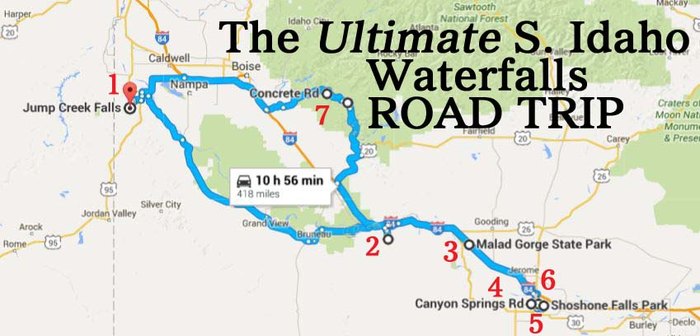 Please note that the Google map provided may not represent the best way to get to these falls, but rather to the trail-head or nearest scenic byway. Pay careful attention to the additional directions and links provided to ensure your first waterfall vacay goes as smoothly as possible!
Are you excited to travel this Southern Idaho waterfalls road trip? Have you seen any of these in person already? Which one is your favorite? Let us know in the comments below!
Of course, Idaho is brimming with stunning water features, which is why this is only the Part I of our series. In upcoming weeks we will continue to break down Idaho's best and most scenic landscape features, historical points, and foodie icons– this historic set of waterfalls included. You won't want to miss it!
Now, who's up for an epic road trip through Southern Idaho?
Address: Jump Creek Falls, Idaho 83639, USA
Address: Glenns Ferry, ID 83623, USA
Address: Thousand Springs, Idaho 83355, USA
Address: Perrine Coulee Falls, Twin Falls, ID 83301, USA
Address: Pillar Falls, Idaho 83301, USA
Address: Shoshone Falls, Idaho 83341, USA
Address: Big Fiddler Creek, Idaho 83647, USA
Southern Idaho Waterfalls Road Trip
February 26, 2021
How many waterfalls are in Idaho?
There are 63 named waterfalls in Idaho that you can seek out and visit. But the state is home to far more than that, especially when you account for short-lived seasonal waterfalls that pop up after the snow melt, but disappear in summer. 
What's the biggest waterfall in Idaho?
Union Falls, sitting at an impressive 250 feet tall, is the tallest waterfall in all of Idaho. It's a fan-type waterfall, and it sits inside the Cascade Corner of Yellowstone National Park. This waterfall  is 50 feet taller than the second tallest waterfall in Idaho, Twin Falls.
Address: Jump Creek Falls, Idaho 83639, USA
Address: Glenns Ferry, ID 83623, USA
Address: Thousand Springs, Idaho 83355, USA
Address: Perrine Coulee Falls, Twin Falls, ID 83301, USA
Address: Pillar Falls, Idaho 83301, USA
Address: Shoshone Falls, Idaho 83341, USA
Address: Big Fiddler Creek, Idaho 83647, USA