This Easy Hike Leads You Straight To The Dreamiest Mountain Hot Spring In Idaho
Locals know that winter is the perfect time to get out and explore the best natural hot springs in Idaho. Although you can always drive to the nearest hot spring resort, there's something extra special about going out of your way to soak in a natural hot spring. These natural springs are often less crowded and surrounded by pristine natural beauty, which makes for the perfect soaking conditions. The destination featured below, Trail Creek Hot Springs, can be found by traversing a short and easy trail. It's not that hard to find and you'll be glad you made the extra effort to seek this place out.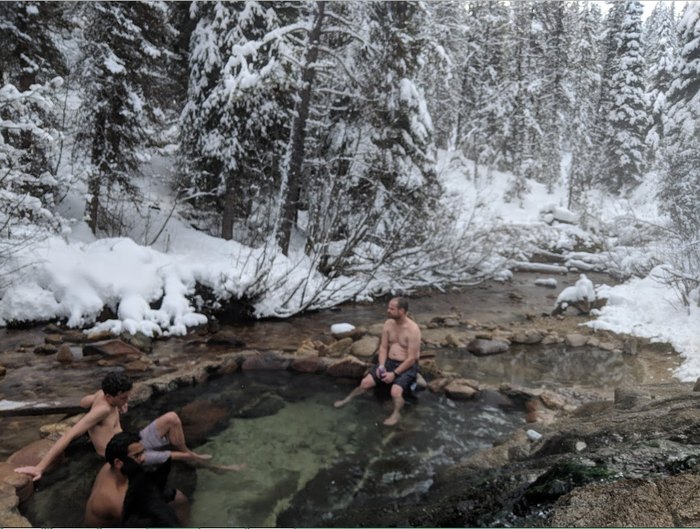 Have you been to Trail Creek Hot Springs? This natural hot spring is positively beautiful. What are your favorite hot springs in Idaho? Share your thoughts with us in the comments below!
If you love seeking out our state's best soaking destinations, you'll definitely want to check out our previous article: The Natural Hot Springs Trail In Idaho That's Everything You've Ever Dreamed Of.
Address: Trail Creek Hot Springs, Idaho, USA
hot springs in Idaho
February 08, 2022
Where can I go snow tubing in Idaho?

Looking for one of the best winter getaways in Idaho? Then you'll definitely want to check out Gateway Park in Boise. Nestled inside Eagle Island state park, this area is home to the city's longest official snow tubing hill. You'll love rushing down the slopes and soaking up the scenery. Pepsi Goldrush, located in Bogus Basin, is another must-visit destination. This 800-foot slope will surely get your adrenaline rushing. And the best part? Snow tubing is a wonderful family activity. Check out our full list of the best snow tubing hills in Idaho for more inspiration.
Should I go hiking in winter in Idaho?

Although winters can get chilly, there are still so many wonderful places to hike in Idaho during winter. Big Springs Trail, located inside Island Park, looks especially magical when it's covered in pristine snow. We also love exploring the Bethine Church River Trail in Boise. This lovely walkway is nestled off the beaten path, so you aren't likely to run into crowds of people. For more snowy sights, visit Moscow Mountain. These views are so astonishing, you'll never want to leave. For more ideas, check out our full list of the best winter hiking trails in Idaho.
What are the best outdoor activities in winter in Idaho?
There's so much to love about Idaho in the winter. Here, you can explore state parks and soak up the snowy views. If you're a thrill-seeker, visit one of Idaho's best ski resorts and snow tubing hills. Our gorgeous state is also home to some spectacular ice skating rinks! Really, you can't go wrong when you visit Idaho in winter.
Address: Trail Creek Hot Springs, Idaho, USA