Here Are the 12 Best Places To Go Sled Riding In Idaho This Winter
Are your "sledding near me" Google searches turning up fruitless? We've got you covered! Sledding is one of those quintessential winter activities that no winter season is complete without, and Idaho's hilly, mountain-y, and totally tubular landscape is made for this nostalgic pastime. While skiing and snowboarding tend to be a big deal at our resorts and mountain getaways, sledding makes for an equally fantastic family day out. Fortunately, the best sledding spots in Idaho can be found in every corner of the Gem State. You just have to get away from the main roads and explore a bit! We've already done the hard part of powder-testing these spots for you, so here are some of Idaho's top-rated places for sledding, tubing, and good old-fashioned winter fun.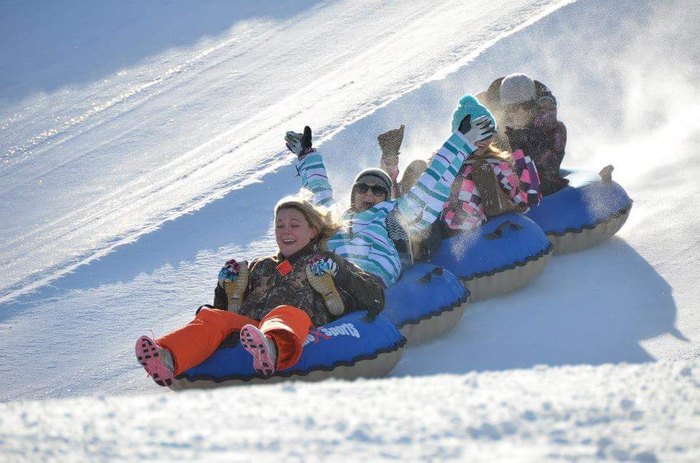 It's easy to find the perfect sledding spot in Idaho – the real challenge is nabbing a hill before the crowds come! If that's the case, sledding's dangerous relatives include ice-blocking, hooky-bobbing, and ATV-pulling. Which is your favorite?
For more cold weather goodness, with or without snow, this national reserve gets particularly magical in winter.
OnlyInYourState may earn compensation through affiliate links in this article.
More to Explore
Sledding in Idaho & Related Info
What are the winters like in Idaho?
The Gem State is large and diverse, so winters in Idaho vary from year to year and differ greatly between regions. In general, winters in Idaho are mild; however the state does see plenty of snow and ice, in addition to extreme temperatures when conditions are right. Some of the worst winter storms Idaho has ever seen include:
Aside from these notable winter storms, Idaho visitors and residents can also expect to see annual snowfall - particularly at higher elevations - average state-wide temperatures between 15 and 38 degrees Fahrenheit, and a winter season that typically lasts from November to February. Stanley, Idaho spends over 260 days each year below freezing, and many parts of the state experience extreme temperature drops as well.
How much snowfall does Idaho get each year?
In general, the southern half of Idaho is warmer and drier than Central and North Idaho, but heavy snowfall can be found in every corner of the state due to Idaho's numerous mountain ranges. The snowiest cities in Idaho, measured in average inches of snow per year are:
Island Park: 154 inches per year
Mack's Inn; 141 inches per year
Warm River: 97 inches per year
Ashton: 97 inches per year
Warren: 95 inches per year
However, the rest of Idaho sees snow as well, with very few cities receiving less than ten inches per year. The least snowy cities in Idaho are:
Mountain Home, ID: 6.74 inches per year
Grand View, ID: 8.03 inches per year
Hollister, ID: 8.36 inches per year
Melba, ID: 8.71 inches per year
Murphy, ID: 9.37 inches per year
Related Articles
Explore Idaho