Everyone In Idaho Must Visit This Epic Waterfall As Soon As Possible
If you enjoy happening upon hidden waterfalls while enjoying the beautiful naturescape of Idaho, you're in luck! Today we're going to take a little trip to Star Falls. Also known as Caldron Linn Falls, it's a hidden gem of a waterfall that sits on the Snake River near Murtaugh, just outside the Twin Falls metro area. The French-inspired name refers to the stunning and frothy, agitated watershed at the base of the falls which resembles a bubbling cauldron during peak runoff. (So cool, right?!) While often overshadowed by its taller and more predominant Magic Valley counterparts, Caldron Linn definitely makes for a phenomenal day trip or scenic Sunday afternoon getaway, so be sure to check out this glorious hidden waterfall in Idaho the next chance you get!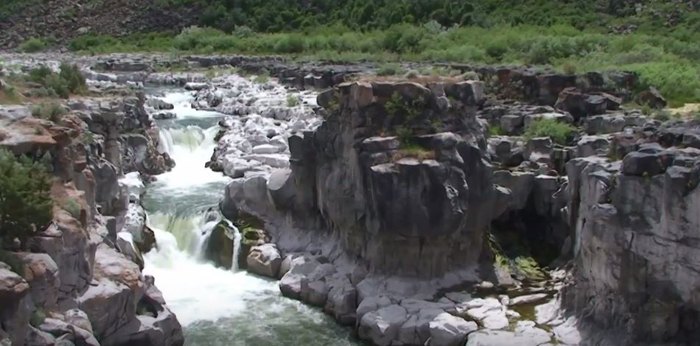 But all the photos in the land of the Internet couldn't do this scenic location justice, so enjoy this stunning drone footage:
The footage is phenomenal, but just a glimpse of the real deal. Special thanks to Vortex Drones for an awesome job capturing this Idaho wonder!
When visiting Caldron Linn, be sure to keep your children and/or pets secure; currently, the falls aren't developed and there is no safety rail or concrete walkway along the falls. Enjoy the view, keep it pristine, and be sure to share your awesome photos of this hidden waterfall in Idaho with us in the comments below!
If you're looking for more waterfall adventures in Idaho, definitely check out this epic road trip that visits several of the state's centrally located falls!
Address: Cauldron Linn, Idaho 83335, USA
OnlyInYourState may earn compensation through affiliate links in this article.
Hidden waterfall in Idaho
July 22, 2021
Is Star Falls the only hidden waterfall in Idaho?
Oh my goodness — not by any means! Star Falls is actually located in Idaho's City of Falls, an area lauded for its abundance of majestic cascades… many of which are secret, hidden little gems! Tucked away in Southern Idaho and directly en route to Boise, the city of Twin Falls has long made a name for itself as the home of the breathtakingly powerful Shoshone Falls, which stand taller than Niagara. The Snake River Canyon cuts through the edge of town and creates a dramatic background for the falls — as well as for Base jumping, bungee jumping, ice-fall climbing, paddling, and plenty of other recreation opportunities. It's a beautiful, well-known area of Idaho. But as gorgeous as this rugged canyon may be, it is made all the more special by the dozens of waterfalls pouring out of its sheer basalt walls, which stretch over 50 miles downriver. From the broad crashing waters of Shoshone Falls to the barely there streams of Bridal Veil and everything in between, this town and its outskirts have aptly earned another nickname: Idaho's own City of Waterfalls. Go and see for yourself — you're sure to discover a hidden, new-to-you waterfall here!
What's the tallest waterfall in Idaho?
The tallest waterfall in Idaho is a stunner: the glorious Goat Falls. In addition to being located in one of the most naturally beautiful areas of Idaho, Goat Falls stands at a whopping 650 feet tall. This makes it the tallest waterfall in Idaho by leaps and bounds. It's truly a spectacle you won't want to miss!
What are some waterfall hikes in Idaho?
Baron Creek is one of the deepest canyons in the Sawtooths, and the location of the eponymous Baron Creek Falls. The hike is a bit of a trek, with a well-worth-it reward at the end. For an accessible waterfall hike, definitely check out Goose Creek Falls. Located within the Payette National Forest, the Goose Creek Falls Trail is a family-friendly hike that clocks in at just around three miles long. It's one of the best waterfall hikes in the state! And if you're up for an aquatic adventure, grab a kayak and head to Pillar Falls, one of Idaho's hidden gems that are just as exhilarating to get to as they are to see. Named after the giant stone monoliths that rise from the Snake River, these falls are a series of slight, tiered drops and rapids that weave around the numerous islands and inlets.
Address: Cauldron Linn, Idaho 83335, USA
OnlyInYourState may earn compensation through affiliate links in this article.