Most People Have No Idea This Incredible Slice Of History Is Hiding In Hawaii
Everyone has heard of, and most likely visited, the USS Arizona Memorial – the most famous of Hawaii's war memorials commemorating the 1,102 sailors and marines who lost their lives during the Japanese attack on Pearl Harbor.
But what about the massive, Olympic-sized Beaux-Arts swimming pool carved into the beautiful Pacific Ocean on the southern shores of Oahu? This is the Waikiki Natatorium in Hawaii, and though it is no longer open to the public, it is perhaps one of the state's most magnificent memorials to the United States Armed Forces.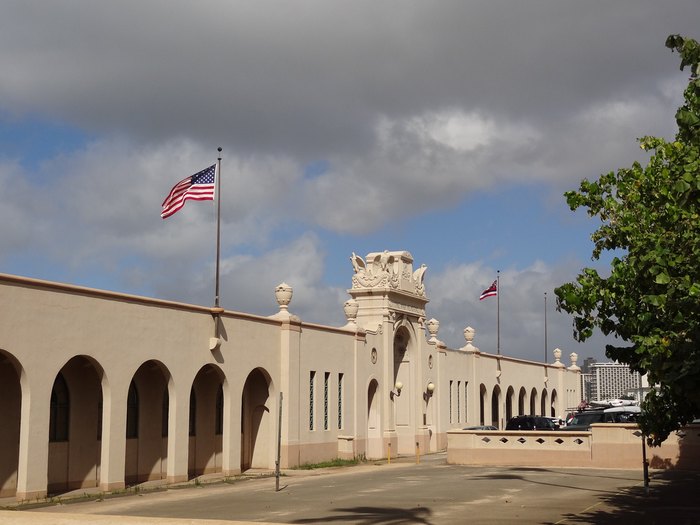 Whether or not you support the preservation of this crumbling architectural marvel, it's hard to deny that the Waikiki Natatorium in Hawaii is a thing of absolute historical wonder. If you do support the preservation of this beautiful structure, head to the Friends of the Natatorium website for more information on how you can help.
Want to learn more about Hawaii's cool historic sites? Check out our article about 13 historic sites found throughout Hawaii.
OnlyInYourState may earn compensation through affiliate links in this article.
Address: 2815 Kalakaua Ave, Honolulu, HI 96815, USA
Waikiki Natatorium In Hawaii
May 17, 2021
What are some historical sites in Hawaii?
Although Hawaii has only been a U.S. state since 1959, it has a history that started long before that. You can view centuries-old archaeological sites, coastal village sites, temple ruins, and more at the 182-acre Pu'uhonua O Honaunau National Historical Park on the Island of Hawaii. It was once a site of refuge for those who broke any number of sacred laws, or kapu, and were seeking forgiveness for their transgressions. For another fascinating historical site, head just south of Waimea on the island of Kauai to the Russian Fort Elizabeth Historical State Park which was built by the Russians in 1817 when an alliance was made between High Chief Kaumuali'i and the Russian-American Company. Today, you can visit the ruins of the irregular octagonal-shaped fort and take a self-guided tour.
Where can I find memorials in Hawaii?
In Pearl Harbor next to the USS Arizona Memorial Visitor Center is the USS Bowfin Museum and Park. This floating museum is housed inside a WWII-era submarine where visitors can learn about naval history and the war and get a glimpse of what life was like for officers who lived on board for many months at a time. Within Punchbowl Crater in Honolulu is the National Memorial Cemetery of the Pacific memorializing members of the United States Armed Forces who served and lost their lives fighting in World War I, World War II, the Korean War, and the Vietnam War.
What are the most interesting places in Hawaii?
Although there are numerous interesting man-made structures around the islands, there is nothing more fascinating than the natural beauty found across the Aloha State. From Hawaii Volcanoes National Park on the Big Island with two active volcanoes and lava tubes to the iconic dormant volcano of Oahu's Diamond Head, Hawaii is filled with surreal beauty you can't find anywhere else on earth.