Most People Don't Know The Fascinating Story Behind Hawaii's Legendary Pink Hotel
Hawaii hotels are a dime a dozen these days, but this historic spot sure is special. In the heart of Oahu's tourist district and among the hoards of luxury hotels and resorts, stands a picturesque pink landmark you surely can't miss as you stroll down the famous Waikiki Beach. This is the Royal Hawaiian Hotel and, at more than 90 years old, it is still just as legendary — and just as pink — as when it first opened in 1927.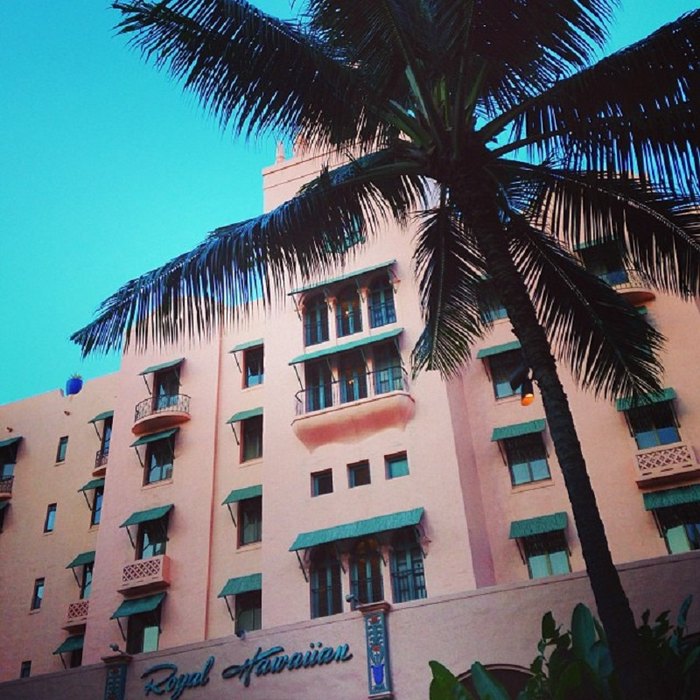 The Royal Hawaiian Hotels even offers guests a complimentary tour of its historic royal grounds on Tuesdays and Thursdays at 1 p.m. For a detailed timeline of the hotel's history, check out their website. Also, be sure to check out these 15 epic Hawaii hotels and resorts across the Hawaiian Islands. What is your favorite Hawaii hotel to stay at when you visit the Aloha State?
Address: The Royal Hawaiian, a Luxury Collection Resort, Waikiki, 2259 Kalakaua Ave, Honolulu, HI 96815, USA
Hawaii Tourism
May 11, 2020
What is the history of tourism in Hawaii? 
Tourism in Hawaii began in the 1860s with travelers coming from across the world to visit Kilauea Volcano, one of the world's premier destinations for adventure travelers. A grass structure known as the Volcano House was built on the rim of Halemaumau Crater in 1865: this was Hawaii's first hotel. Since then, the tourism industry has exploded in Hawaii, but we love looking back at these 13 rare vintage photographs that showcase the islands' tourism industry.
How many tourists visit Hawaii each year? 
More than 10 million visitors came to Hawaii in 2019, which was an increase of 5.4 percent as compared to 2018. On average, there were approximately 249,000 visitors in the Aloha State on any given day in 2019. These visitors spent approximately 17.75 billion dollars, making it obvious that tourism is the largest industry in Hawaii.
What are the most popular tourist destinations in Hawaii? 
With breathtaking beaches in a variety of colors, lush greenery, towering mountains, and plenty of natural wonders, the Aloha State is home to some of the world's most popular tourist destinations. Some of the most popular must-visit spots are Hawaii Island's Mauna Kea, Kauai's Na Pali Coast, Maui's Road to Hana, and Oahu's Hanauma Bay. Discover more can't-miss tourist destinations in our previous article, "These Are The Top Three Things You Need To Do On Each Hawaiian Island."
Address: The Royal Hawaiian, a Luxury Collection Resort, Waikiki, 2259 Kalakaua Ave, Honolulu, HI 96815, USA