If You Didn't Know About These 11 Swimming Holes In Hawaii, They're A Must Visit
While the Hawaiian Islands certainly do not have a shortage of pristine, white-sand beaches or man-made, oceanfront pools for us to choose from, occasionally we crave something a little more adventurous — like a swimming hole, sparkling blue waterfall pond, or tide pool carved into the coast. We've talked plenty about some of our favorite swimming holes in Hawaii before, and now we're at it again to feature some of the best — from cascading waterfalls deep in the jungle to tide pools tucked away on the coast. You might see some overlap in these two lists, but that's because some spots are just too magnificent to not share twice.
Because many of these destinations are fed by ocean waves or waterfalls, it is important for us to issue a friendly warning about the risks associated with strong ocean currents, flash flooding, and leptospirosis bacteria found in many of Hawaii's natural pools. It is advised that you check weather reports and ocean conditions before heading out for the day, and to always watch your step.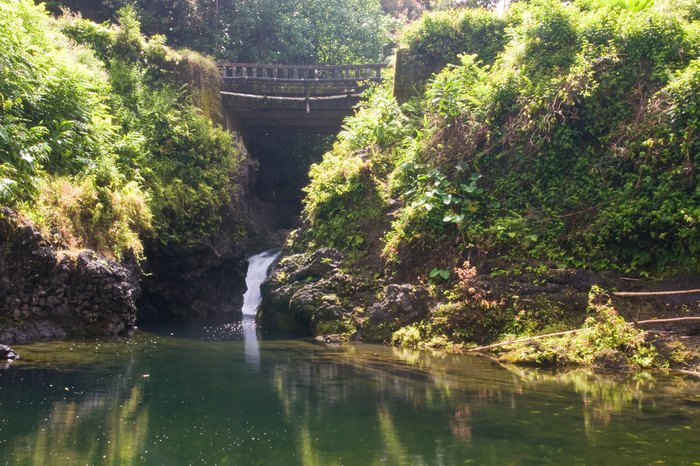 Which of these swimming holes in Hawaii is your favorite? Do you have another favorite Hawaiian swimming spot? Share your favorites with us in the comments below, then learn about some of our favorite Hawaii beach towns. You might also be interested in our Ultimate Hawaii Beach Bucket List.
OnlyInYourState may earn compensation through affiliate links in this article.
More to Explore
Swimming Destinations In Hawaii
Are there any good swimming hole hikes in Hawaii?
Yes! The best swimming hole hikes in Hawaii are:
Judd Trail
Oheo Gulch
Secret Falls in Kauai
There's nothing better than making a splash at the end of a hike on a hot Hawaiian day, and the islands' swimming hole hikes certainly don't disappoint. My personal favorite is Oahu's Judd Trail, which leads to a stunning oasis known to locals as the Jackass Ginger Pool, but others are far more famous and popular, like Maui's Oheo Gulch and Kauai's Secret Falls. No matter which trail you choose, you're in for a marvelous Hawaiian adventure.
What are the best beaches in Hawaii?
The best beaches in Hawaii are:
Mokuleia Beach
Kuilima Cove
Kahana Bay Beach Park
Kaiona Beach Park
Alan Davis Beach Park
Hunakai Beach
With 750 miles of stunning coastline, the Hawaiian Islands are home to hundreds upon hundreds of incredible beaches with sand in a variety of colors — some more popular than others. From the most famous stretch of sand in the state — Oahu's Waikiki Beach — to some of the islands' most remote beaches — Kauai's Polihale State Park and Maui's Makena State Park, to name two of the best — Hawaii's beaches are second to none. Of course, you can't forget Hawaii's incredible colored-sand beaches in shades of green, red, and black.
Where can you find the greatest concentration of swimming holes in Hawaii?
The greatest concentration of swimming holes in Hawaii can be found along the Hana Highway. The 64-mile highway is known for its 620 curves, 59 one-lane bridges, and incredible views, but it is also littered with wondrous waterfalls and breathtaking beaches perfect for making a splash. While it would be nearly impossible to check out every beach and waterfall along the Hana Highway unless you live nearby, this road trip will take you to some of our favorites.
Related Articles
Explore Hawaii