Posted in Hawaii
October 07, 2021
Take A Haunted Road Trip To Visit Some Of The Spookiest Places In Hawaii
The seasons are finally changing, and while the Hawaiian Islands don't experience fall weather like much of the mainland, we can certainly partake in all things Halloween, from candy corn and pumpkin carving to haunted houses. Don't get me wrong, I love a good haunted house as much as the next person, but I'm personally partial to real tales of the paranormal, of apparitions and spooky sounds at haunted places. Luckily, Oahu is full of haunted places, from hotels and highways to parks and universities. And here at Only In Hawaii, we've gone ahead and crafted the perfect road trip across Oahu, stopping at ten of the island's most famous haunts. The entire trip clocks in at just under 50 miles and two hours of drive time, perfect for an evening of ghost hunting. And while we chose to journey from Kapolei to Honolulu, you can certainly reverse this trip and do it in the opposite direction if you live in town. Who's ready to experience the most haunted places in Hawaii?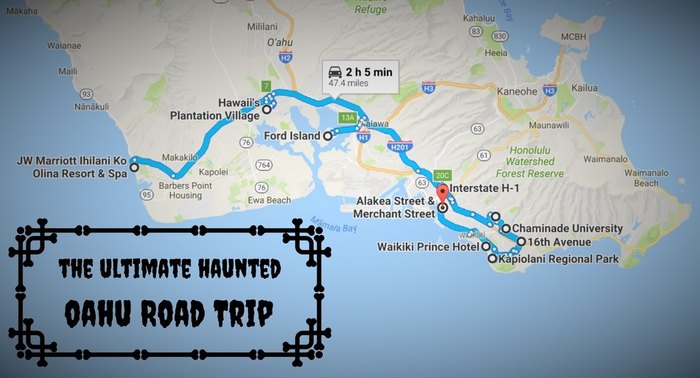 Have you seen any ghosts in Hawaii? For an extra-spooky experience, we recommend combining this haunted trip with either this road trip Oahu's most abandoned places, or this terrifying drive.
Address: Hawaii's Plantation Village, 94-695 Waipahu St, Waipahu, HI 96797, USA
Address: Kaimuki, Honolulu, HI, USA
Address: Chaminade University of Honolulu, 3140 Waialae Ave, Honolulu, HI 96816, USA
Address: Merchant Street, Merchant St, Honolulu, HI, USA
Address: 92-1001 Olani St, Kapolei, HI 96707, USA
Address: Prince Waikiki - Honolulu Luxury Hotel, 100 Holomoana St, Honolulu, HI 96815, USA
Address: Pearl Harbor, Hawaii, USA
Address: Interstate H-1, I-H-1, Honolulu, HI, USA
Address: Kapiolani Park Beach, Diamond Head / Kapahulu / St. Louis Heights, HI 96815, USA
Most Haunted Places In Hawaii
August 27, 2019
What is the most famous ghost story from Hawaii?
Hawaii's most famous ghost story involves a band of phantom warriors known as The Night Marchers. According to legend, these ancient Hawaiian fighters come back to haunt Nu'uanu Pali Lookout in Oahu. People have reported seeing them blowing into conch shells, banging drums, and carrying torches. If you ever encounter this ghostly group of fighters, you're supposed to strip naked and lie face down in the sand. Making eye contact could anger these apparitions.
What is the most haunted town in Hawaii?
Honolulu is the most haunted city in Hawaii. Amongst the bustling and beautiful atmosphere lurks some seriously spooky stories. This city is home to the Hamilton Library, a haunted building known for giving its guests a scare. You'll also find Chaminade University, one of the most haunted schools in Hawaii. Kapiolani Park is also found in Honolulu, and it's known to have some bone-chilling paranormal activity.
What is the creepiest abandoned place in Hawaii?
Coco Palms Resort is a spooky abandoned place located in Kauai. This once-prosperous business attracted celebrities like Frank Sinatra and Elvis Presely. In fact, the king of rock and roll actually filmed a scene from the movie Blue Hawaii here. It was tragically struck by Hurricane Iniki and it has stood vacant ever since.
Address: Hawaii's Plantation Village, 94-695 Waipahu St, Waipahu, HI 96797, USA
Address: Kaimuki, Honolulu, HI, USA
Address: Chaminade University of Honolulu, 3140 Waialae Ave, Honolulu, HI 96816, USA
Address: Merchant Street, Merchant St, Honolulu, HI, USA
Address: 92-1001 Olani St, Kapolei, HI 96707, USA
Address: Prince Waikiki - Honolulu Luxury Hotel, 100 Holomoana St, Honolulu, HI 96815, USA
Address: Pearl Harbor, Hawaii, USA
Address: Interstate H-1, I-H-1, Honolulu, HI, USA
Address: Kapiolani Park Beach, Diamond Head / Kapahulu / St. Louis Heights, HI 96815, USA