Follow This Abandoned Railroad Trail For One Of The Most Unique Hikes In Hawaii
The Hawaiian Islands are not only home to magnificent beaches, but world-class hiking as well. Some of the best hikes in Hawaii can be found on Kauai, in fact, as with the following adventure. Between the scenery and with near-perfect summer weather year-round, there's nowhere better to lace up your hiking boots and hit the trails than our beautiful islands! There is also nowhere better to experience the Hawaiian coast than on this abandoned railroad trail on Kauai. Ready for an adventure? Let's go!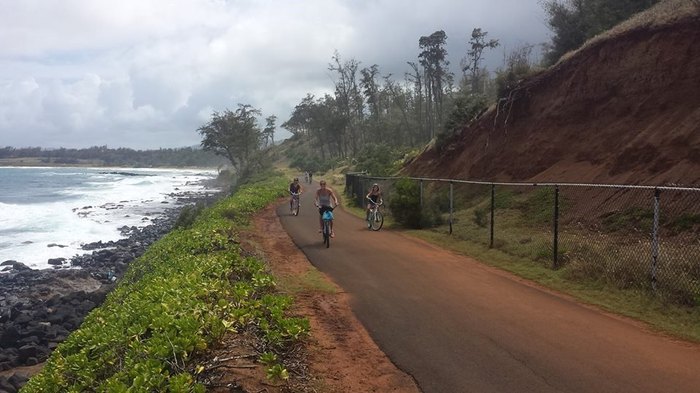 Have you ever experienced the beauty of Kauai from this stunning coastal path? Do you agree that it is one of the best hikes in Hawaii? Share your experiences in the comments below, and your photos with us in our Hawaii Nature Lovers Facebook group.
If you're looking for more of a challenge, but still want a little railroad history to complement your hike, head to Oahu, where you will find the incredible, heart-pounding Koko Head Stairs, an old railroad trail that leads hikers up the side of a mountain to one of the island's best views.
OnlyInYourState may earn compensation through affiliate links in this article.
More to Explore
Best Hikes in Hawaii
What are some of the best hikes in Hawaii for beginners?
Hawaii is a bucket-list destination for most, and the great news is that you don't have to be an advanced outdoorsman to enjoy the best the state has to offer! We put together this list of the best easy hikes in Hawaii; all are bucket-list worthy, and all are suitable for beginners and newbie hikers alike. Some of our favorites? In Manoa Valley, there is a beautiful two-mile round trip hike through bamboo and banyan trees that leads to a picturesque waterfall – and in less than 45 minutes one way. We love this easy hike in Hawaii for the absolutely stunning waterfall at the end, and we think you will, too! Another short-and-sweet hike in Hawaii perfect for families is located in the Hawaii Tropical Botanical Garden. This 1.5-mile trail meanders through a beautiful botanical garden, home to more than 2,000 species of flora. Consider taking the 2.5-mile round trip donkey trail to Onomea Bay and Turtle Cove. This is a great kid-friendly hike in Hawaii, offering plenty of boardwalks, and more easy, well maintained trails nearby!
What are the most scenic places in Hawaii?
Pretty much *every* hike in Hawaii is guaranteed to be spectacularly scenic, but there are some that rise above the rest. The Big Island of Hawaii is home to some of the most incredible tropical forests in the world, and Akaka Falls State Park is truly a nature lover's dream come true. The headlining act of the park -- Akaka Falls -- is 442 feet tall and well-worth seeking out. But the magic of this waterfall is as much in the journey as it is the destination; the park is teeming with lush greenery, vibrant native flowers, vivacious birds, and an abundance of tropical wildlife. This is a place where photographs simply can't do justice and is the very definition of a bucket-list experience.
Another scenic place to explore in Hawaii is the Ko'olau Range. Serving as a backdrop to Oahu's stunning windward coast, these lush mountains rise more than 3,000 feet above sea level. The Ko'olau Mountains are not a mountain range in the traditional sense; rather, they are what remains of the island's eastern shield volcano, which is believed to have once towered 10,000 feet above the sea. The volcano became dormant approximately 1.7 million years ago, and steady erosion resulted in the mountains as we know them today: tall, rugged, and majestic monoliths that keep an omnipotent eye on the Hawaiian landscape.
Related Articles
Explore Hawaii
Featured Addresses

Kauai Multiuse Path(Ke Ala Hele Makalae), Kapa?a, HI, USA