Most People Have No Idea This Unique Park In Georgia Exists
Editor's Note: The Dinosaur Explore exhibit at Wild Adventures Theme Park has ended. But be sure to check out Dino Village for another fun dinosaur adventure in Georgia!
There are so many different theme parks throughout Georgia, it's hard to choose which one to spend your weekend exploring. From roller coasters to water parks, or even the stunning state parks—Georgia is filled with unique parks where you can have an adventure with your whole family. But this little-known exhibit in Wild Adventures Theme Park may just be the only way you can get a firsthand look at what it was like when dinosaurs roamed the earth. Get ready for the ultimate adventure inside this dinosaur park in Georgia.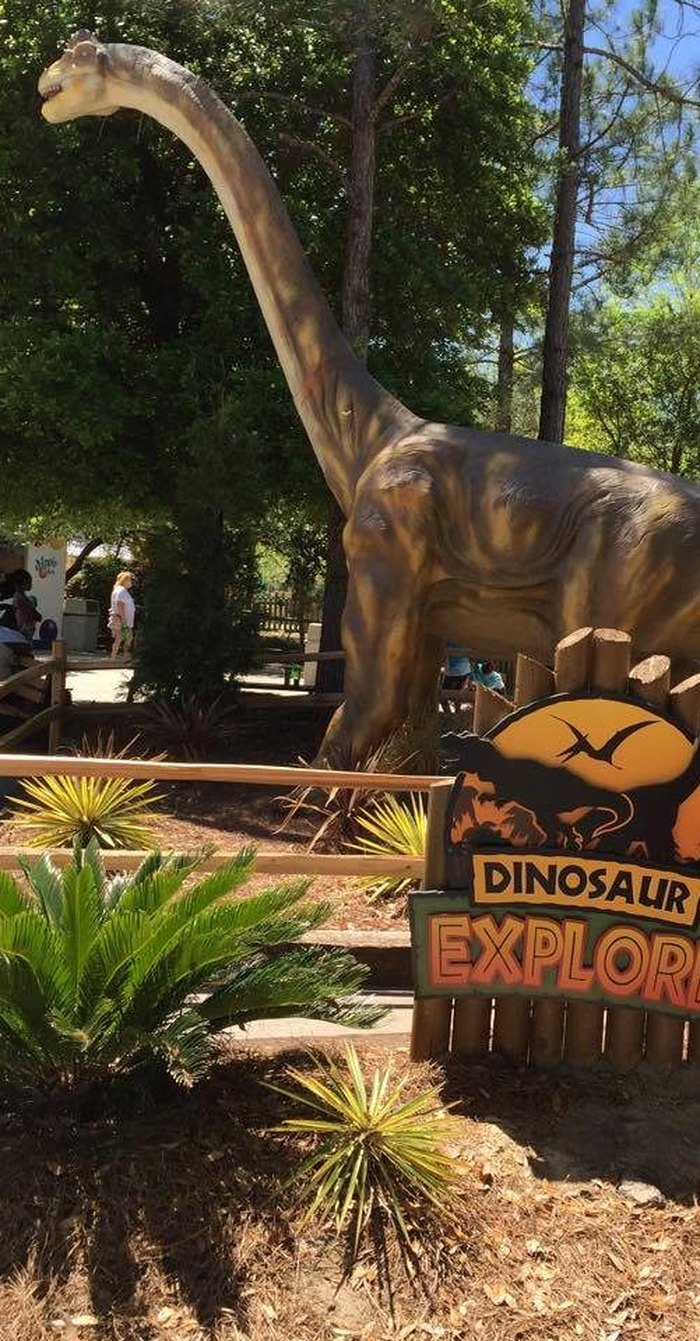 Are you itching to visit this dino attraction? Check out the location:
Address: 3766 Old Clyattville Road, Valdosta, GA 31601
Thanks to YouTuber C Williams, you'll get a quick glimpse of what Dinosaur Explore is all about:
How about that for a pretty cool dinosaur attraction in Georgia? If unique Georgia destinations are more your speed, then check out This One Destination Has The Absolute Bluest Water In Georgia.
OnlyInYourState may earn compensation through affiliate links in this article.
More to Explore
Dinosaur Park in Georgia
What museum has the best dinosaur exhibit in Georgia?
For those looking for a spectacular dinosaur museum in Georgia, then there are quite a few to choose from. However, the best possible place to visit dinosaurs in Georgia will have to be the Fernbank Museum in Atlanta. The Fernbank Museum of Natural History is filled with various dinosaur artifacts and statues. In fact, even in the center of the museum, you'll find the Dinosaur Plaza which has two giant bronze sculptures of a dinosaur species known as the Lophorhothon atopus which is said to have lived in the region we now know as Georgia.
Did dinosaurs live in Georgia?
One of the very first modern finds of dinosaur remains were discovered in 1979 by Dr. David Schwimmer. The dinosaur remains were found from the Late Cretaceous Period, which is approximately 69 to 87 million years ago. These remains were found in the river, marine, and estuarine deposits, which led Schwimmer to conclude that the dinosaurs were washed out to sea from the shoreline of Georgia, leaving the sharks to devour much of the bodies. Single bones from the head, tail, and limbs have washed to shore over time.
Are there dinosaur fossils in Georgia? 
While the state fossil of Georgia is actually shark teeth, many wonder about seeing actual dinosaur fossils. As mentioned above, one of the best dinosaur attractions in Georgia is Fernbank Museum, which is where you can get the best possible chance to view fossils. The Giants of the Mesozoic exhibit showcases fossil casts of various dinosaurs within the Cretaceous period. All the fossils that are on display within this exhibit are cast replicas of the original specimens, as the actual fossilized bones remain in Argentina as a national treasure.
What are the best dinosaur attractions in Georgia?
The best dinosaur attractions in Georgia include the Wild Adventures dinosaur park, Fernbank Museum, Jurassic Quest, Children's Museum of Atlanta, and Stone Mountain Park Dinosaur Explore.
Related Articles
Explore Georgia
Featured Addresses

Wild Adventures, 3766 Old Clyattville Rd, Valdosta, GA 31601, USA