Take This Road Trip Through Florida's Most Picturesque Small Towns For An Unforgettable Experience
In our opinion, Florida is one of the best states for road trips. There's an endless array of scenic outdoor fun, incredible restaurants, quaint shops, and roadside attractions that anyone with a few days off and a sense of adventure can enjoy. We've previously brought you several possible routes, from The Ultimate Central Florida Road Trip to this terrifying trek through some of Florida's most haunted places. The real heart of Florida, however, is in its charming small towns that invite us to explore nature and other cultures, all while bringing our state's history alive. This road trip is certain to make your next vacation or free weekend unforgettable. Check out some of the best small towns in Florida all on one trip.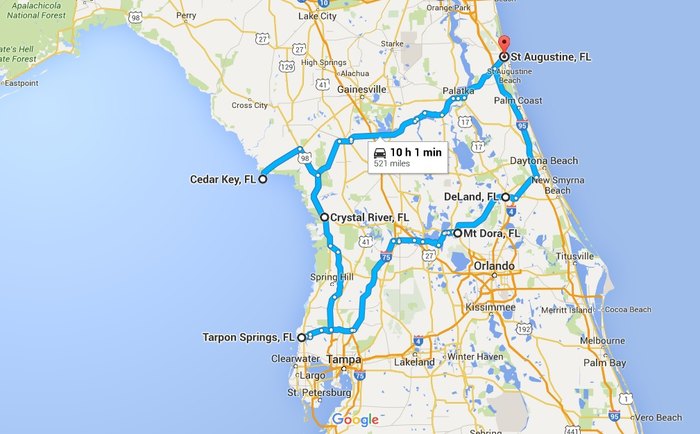 All good things must come to an end, including our epic road trip through the best small towns in Florida. If you're looking for more charming small towns, check out our list of the 17 Most Picturesque Small Towns In Florida.
OnlyInYourState may earn compensation through affiliate links in this article.
Address: St. Augustine, FL, USA
Address: DeLand, FL, USA
Address: Mount Dora, Mt Dora, FL 32757, USA
Address: Tarpon Springs, FL, USA
Address: Crystal River, FL, USA
Address: Cedar Key, FL 32625, USA
Best Small Towns In Florida
October 11, 2020
Where is the best place to live in Florida?
This small town road trip through Florida might have you questioning where the best place to live would be. Whether it's small towns or the cities, Florida has some pretty wonderful places to live. While this question might cause some commotion among Florida residents, we're going to go out on a limb and say that Cedar Key, Florida is the best place to live, not just because of the community spirit and waterfront access, but also because there are tons of restaurants and small-town charm.
What is the largest city in Florida?
Are you over the small towns in Florida? Looking to go bigger? If you want a quick getaway in Florida and prefer a large city, then we recommend going to Miami, which is considered the most populous city with 5.5 million residents. However, if you want to know the largest city in Florida in terms of size, then check out Navarre, Florida which is 84.83 square miles.
Which town in Florida has the best restaurants?
If you're anything like us and you choose places to visit in Florida that revolve around food, then you'll like this next answer. One of the best small towns with the best food options is Apalachicola, Florida. This authentic fishing village is famous for fresh oysters, but it's really the easy seafood options that make this a great place to eat. So many delicious seafood options in one small village.