8 Amazing Places You Can Go On One Tank Of Gas In Florida
You don't need a big budget to take the trip of a lifetime in Florida. In fact, you can check out the very best road trips in Florida on a tankful of gas! Of course, it will depend on what you drive, but the average vehicle can travel 300 miles per tank of gas. Our trip adds up to only 173 miles, leaving plenty of wiggle room if you decide to add a few destinations of your own.
Our trip will take you to some amazing Old Florida towns and natural wonders, plus a few of the best must-try restaurants in Florida. We think it's the perfect road trip that won't break the bank. It's a lot to fit into one day, so feel free to cut out a few stops or spend the night in one of the unique destinations along the way.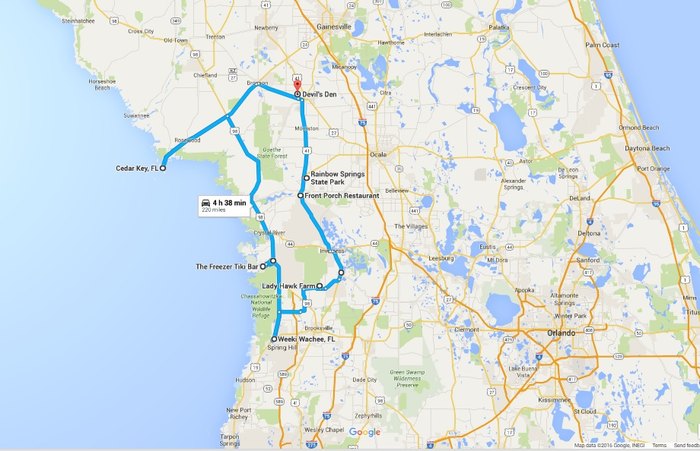 Isn't Florida the best state in the country for road trips? Check out our Ultimate Central Florida Road Trip and our Ultimate North Florida Road Trip, and start driving! Also, be sure to let us know your favorite of the best road trips in Florida!
OnlyInYourState may earn compensation through affiliate links in this article.
Best Road Trips In Florida
March 15, 2020
Are there any food-related road trips in Florida?
The Sunshine State is a haven to vacationers and foodies, and it's plain to see why. It seems that every community has its own collection of mom and pop shops, local landmarks, and, of course, a vast variety of touristy destinations. When it comes to the best day trips in Florida, anyone can tell you that you'll most benefit from touring the state like a local. Take a restaurant road trip to some local favorites, or set out to find a particular food item, like tacos. Either way, your taste buds are in for a treat!
What are the best day trips in Florida?
There's an endless array of things to do in Florida, and many destinations are clustered in the same locale, which makes planning trips so much easier. Obviously, many people come to our gorgeous state for our famously breathtaking beaches. There is much more to see here, however, including all sorts of natural attractions. We're also home to an unusual array of gift shops, curiosity shops, and more. As a general rule here in the Sunshine State, if it looks interesting, make a visit. Almost every landmark has a story to tell!
What are the most popular attractions in Florida?
Florida is, as you know, a wonderland to tourists and spring-breakers. They are intrigued by our coastline, cocktails, and our laid-back lifestyle. They are known to frequent our beaches and most reputable landmarks, but the best way to experience Florida is to explore the state like a local. Take a moment to steal away from the most popular destinations in Florida and enjoy quaint mom and pop shops, hidden beaches, and locally coveted shops. Whatever you do in Florida, you'll appreciate a bit of time away from the tourist trail.