Drive Through This Massive 12-Mile Forested Tree Tunnel In Florida
Sometimes when you get cooped up in your house, with your job, or just in the day-to-day grind, all you need to do to shake it all off is go for a long scenic drive. Whether you're driving along the coast in Florida or looking for a tree-lined getaway, Florida has quite a variety of landscapes to choose from. In fact, there is a 12-mile tree-lined tunnel in Martin County that is as beautiful as you can expect. So take a slow cruise along the Martin Grade Scenic Highway, drive through a tree tunnel in Florida, and enjoy this natural escape from reality.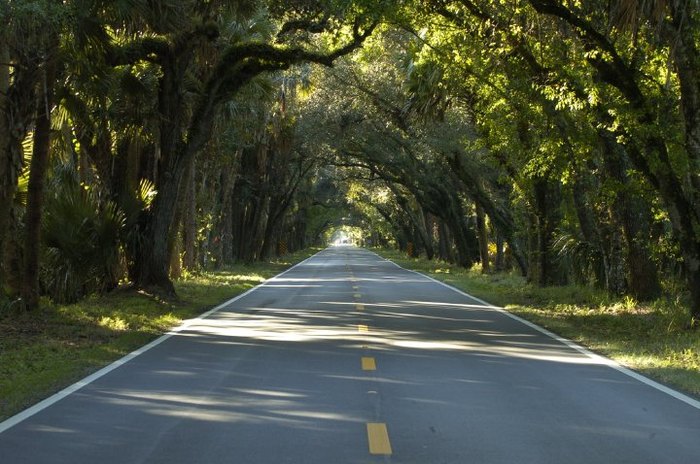 Thanks to the Discover Martin YouTube page, we have a comprehensive glimpse of what this highway is all about:
Who knew there was such a magical way to drive through a tree tunnel in Florida? Have you ever driven down the Martin Grade Scenic Highway in Florida before? Share with us your experience in the comments section! Or if you want to learn more about the highway and the history behind it, check out the Facebook Page.
OnlyInYourState may earn compensation through affiliate links in this article.
Address: 29751 SW Martin Hwy, Okeechobee, FL 34974, USA
drive through a tree tunnel in Florida
March 01, 2021
What are the best scenic drives in Florida?
When it comes to scenic drives in Florida, it's always a good idea to take a back road. These less-crowded streets offer the perfect glimpse of Florida's stunning scenery, no matter the time of year. Of course, Florida's most famous routes can be equally stunning. If you're planning to go for a long, beautiful drive in Florida, you can't go wrong with the Florida Keys Scenic Highway. It's probably one of the most iconic drives in the Sunshine State and features over 100 miles of breathtaking views. In fact, it's even possible to glimpse dolphins and manatees along this route. Learn more about some of Florida's best scenic drives.
What are the best road trips to take in Florida?
Florida is a massive state, and it therefore stands to reason that driving can prove to be one of the best ways to get out and explore. If you're looking for some incredible road trips to take, you won't find any shortage of them in Florida. Are you someone who's particularly interested in the paranormal? Then you'll love our haunted Florida road trip. Or perhaps you appreciate all of Florida's small communities and want to take a charming small town road trip. We've even charted out an itinerary for exploring the most impressive natural wonders in Florida.
Where can I drive in Florida on one tank of gas?
Now that we're on the topic of driving, you might be curious to learn where you can drive in Florida on one tank of gas. Fortunately, we've charted out a route that can be driven with only one trip to the gas station. Some of the destinations you'll reach include Devil's Den in Williston, Rainbow Springs State Park in Dunnellon, The Front Porch in Dunnellon, Floral City and Pudgees' Hot Dog Stand, Lady Hawk Farm in Inverness, Weeki Wachee Springs State Park, BeckyJack's Food Shack, and Homosassa Springs Wildlife State Park.