The One Small Town In Florida With Delicious Southern Food On Every Corner
If ever you've traveled to the charming Southern-inspired town of Dade City then you likely already know the numerous restaurants that pepper the main street area. For those who haven't visited, get ready to feast! Dade City, which holds fewer than 8,000 residents within its town limits, is known for being a quaint Southern-inspired spot with an affinity for kumquats. But this delightful place is also proud of its history and honors it every which way it can – especially when it comes to food! It's easily home to the best soul food in Florida!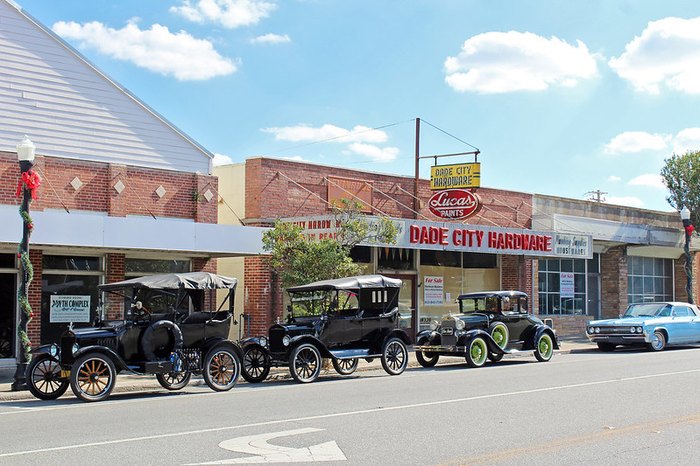 Have you ever been to Dade City, Florida before? Share with us your experience in the comments section! Or if you have any more restaurants that you think we should add to this list, make sure to shout them out, too.
Looking to brush up on your Dade City history? Read all about how this town came to be known as one of the most charming towns in Florida.
OnlyInYourState may earn compensation through affiliate links in this article. As an Amazon Associate, we earn from qualifying purchases.
More to Explore
Best Soul Food in Florida
What are the most popular southern food restaurants in Florida?
Florida is home to several popular Southern restaurants offering a delightful taste of Southern cuisine. While tastes and preferences may vary, here are a few highly regarded southern food restaurants in Florida that have gained popularity:
The Floridian Restaurant (St. Augustine): Known for its southern-inspired dishes with a modern twist, The Floridian Restaurant in St. Augustine offers a menu featuring fresh seafood, locally sourced ingredients, and classic southern favorites like shrimp and grits.
Yardbird Southern Table & Bar (Miami Beach): Yardbird has become a renowned destination for southern comfort food in Miami Beach. Their menu features fried chicken, shrimp and grits, and bourbon-infused cocktails, all served in a trendy and vibrant atmosphere.
Bubba Gump Shrimp Co. (Various Locations): Inspired by the movie Forrest Gump, Bubba Gump Shrimp Co. has become a popular chain restaurant in Florida. They specialize in seafood and shrimp and offer a fun and lively atmosphere.
The Southernmost Buttermilk Biscuit Company (Key West): This Key West gem is known for its delectable homemade biscuits served with various fillings and toppings. From fried chicken to sausage gravy, their biscuits are a must-try for biscuit enthusiasts.
Maple Street Biscuit Company (Various Locations): While not exclusive to Florida, Maple Street Biscuit Company has gained popularity for its savory biscuits and Southern-style breakfast and lunch options. Their unique combinations and commitment to quality ingredients have made them a favorite among locals and visitors.
Remember that popularity can change over time, and individual preferences may vary. It's always a good idea to check reviews, ratings, and current information about these restaurants to ensure they align with your specific tastes and expectations.
What is the best soul food in Dade City, Florida?
Steph's Southern Soul Restaurant in Dade City, Florida, is a premier destination for soul food enthusiasts, earning a reputation for delivering an exceptional dining experience. What sets Steph's apart and makes it considered the best soul food in Florida is its unwavering commitment to authentic Southern flavors, made with love and attention to detail. The menu at Steph's Southern Soul Restaurant boasts an impressive array of soulful delights, from succulent fried chicken and melt-in-your-mouth ribs to savory collard greens and buttery cornbread. Every dish is crafted with the finest ingredients and prepared with traditional recipes passed down through generations. The combination of bold flavors, generous portions, and a genuine passion for soul food makes Steph's Southern Soul Restaurant an undisputed gem and a destination for soul food lovers in Dade City and beyond.
Related Articles
Featured Addresses