The Best Times And Places To View Fall Foliage In Connecticut
While the leaves haven't quite started changing colors all over yet, fall is already in the air in Connecticut. When September rolls around, the air always starts feeling a bit crisper. The school buses start making their rounds around the neighborhood again. Rather than heading down to the beach on the weekends, soon we'll be picking apples and pumpkins. Of course, we'll really know it's autumn in New England when the vibrant fall colors arrive! The big question is when we can expect to see peak fall foliage in Connecticut.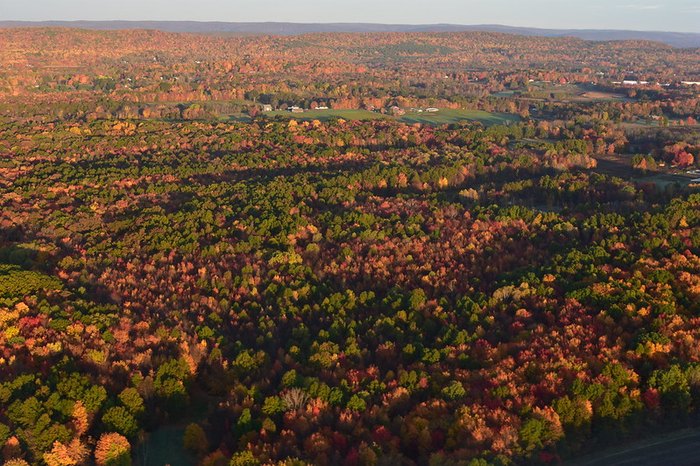 Now that you know when to see fall foliage in Connecticut, how will you enjoy autumn? Is there one thing you do every year to enjoy peak foliage? Tell us about it in the comments! Take a peek at the interactive foliage map at the official Smoky Mountains website. Then, check out this list of fall road trips through Connecticut for more autumn inspiration!
Fall Foliage in Connecticut
September 14, 2022
What is there to do in Connecticut in the fall?
In addition to enjoying the abundant fall foliage in Connecticut, you'll find many other fun things to do in the fall. To really drink in an array of Connecticut fall foliage, embark on a charming day trip. Spend a leisurely day exploring Mount Tom State Park in Litchfield. Climb aboard the Essex Stream Train for a trip along the Connecticut Valley. Or, go apple or pumpkin picking at Lyman Orchards in Middlefield.
If you love ice cream, you'll also love Connecticut in the fall. After all, where else can you find fall-flavored ice cream? Stop by Rich Farm in Oxford, for example, which boasts its popular pumpkin and apple spice ice cream flavors during the autumn.
Where can I see the best fall foliage in Connecticut?
Stroll around most neighborhoods to admire the Connecticut fall foliage. If you prefer going on a hike to see some of the prettiest leaves changing color in Connecticut, set off on the .04-mile Lover's Leap in New Milford or Southford Falls Park Trail in Southbury, the latter of which boasts a beautiful waterfall.
You can also view the stunning peak fall foliage at East Rock Park in New Haven, Dennis Hill State Park in Norfolk, and Squantz Pond State Park in New Fairfield.
Why should I visit Connecticut in the fall?
You'll find so many things to do in Connecticut in the fall. If that's not a big enough selling point, you'll also get to see some of the best fall foliage in the United States. Fall activities abound in Connecticut – from picking pumpkins at local pumpkin patches to going for a leisurely hay ride at sprawling farms.
If you enjoy long, leisurely drives, make your way along Route 1 in New Haven, on Route 149 from Colchester to East Haddam, or Route 85 from Glastonbury to East Hampton.