These 17 Photos Show You Connecticut's Oldest Amusement Park Like You've Never Seen It Before
Lake Compounce is the oldest continuously operating amusement park in the United States. Located in Bristol, Connecticut, it originally opened as a picnic park in 1846. The following 17 Lake Compounce photos show what the attraction looked like during its earlier years.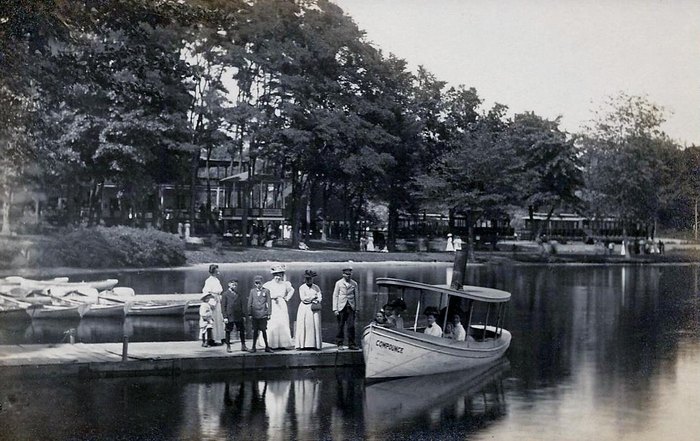 For more information about Lake Compounce, including operating hours and ticket prices, you can view the Lake Componce website or the Lake Compounce Facebook page.
Were you already familiar with the history of Lake Compounce? Do you have any memories of Lake Compounce? If so, please share them with us in the comments below. Also, feel free to share photos with us if you happen to have any.
If you enjoyed these photos that give us a much better understanding of Lake Compounce history, be sure to take a look at these vintage pictures taken during the construction of the Merritt Parkway.
OnlyInYourState may earn compensation through affiliate links in this article.
Address: Lake Compounce, Southington, CT 06489, USA
Lake Compounce
December 15, 2022
1. Is Lake Compounce a great destination for a day trip?
Lake Compounce is a great destination idea for anyone planning a day trip. It's especially a wonderful place to visit during the summer months because it's both a water park and an amusement park in one. Everything is also included with admission. Lake Compounce, which spans 332 acres, opened in 1846 and is one of Connecticut's top attractions. It's also the nation's oldest amusement park. Pretty amazing, huh? The amusement park offers a variety of rides, including roller coasters, kiddie rides, a carousel, a Ferris wheel, and more. The water park includes everything from thrilling waterslides to a relaxing lazy river. Numerous people consider Lake Compounce to be the best water park and theme park in New England. People of all ages enjoy visiting Lake Compounce. If you're looking for somewhere to spend a day that offers a little something for everyone, consider visiting Lake Compounce. You'll love it!
2. Besides Lake Compounce, are there any other places in Connecticut that are great for day trips?
In addition to Lake Compounce, there are several other places in Connecticut that are great day trip destinations. A few of the best day trips in Connecticut are Yantic Falls, The Dinosaur Place, and East Haddam. Each of these day trip destinations are great for the entire family. If you're looking for a place to spend a day, or even an afternoon, in Connecticut, consider one (or more) of these places. They offer a little bit of everything, and you won't be disappointed! Don't forget to add Lake Compounce to your bucket list. After just one visit, you'll be counting down the days until you can return. You'll also be wondering why you waited so long to visit. If you have kids, you'll certainly want to add Lake Compounce to your bucket list. And if you don't have any kids, but you're still a kid at heart, you might want to give it a visit anyways because there's something for everyone.
OnlyInYourState may earn compensation through affiliate links in this article.
Address: Lake Compounce, Southington, CT 06489, USA