Take These 10 Country Roads In Colorado For A Beautiful Scenic Drive
Is there any state more beautiful than Colorado? Considering the Rocky Mountains, breathtaking alpine meadows, forested trails, farmland, and sweeping plains for as far as the eye can see, we're inclined to say there isn't. And while we might be biased, we also think the proof lies in Colorado's scenic roads. These winding routes offer visitors and residents the chance to soak in the natural beauty of the state's varied landscapes. So the next time you're craving fresh air, sunshine, and scenery for miles, roll down the windows and take a spin on any of the following scenic roads in Colorado: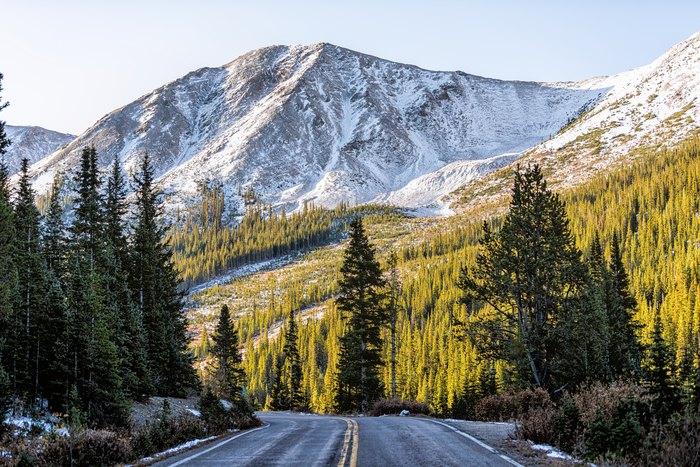 What are your favorite scenic roads in Colorado? Are there any that you would add to this list? Be sure to join in on the conversation by leaving a comment below! Looking for more gorgeous Colorado scenery? Check out these 11 hidden gems in Colorado you have to see before you die.
Address: Independence Pass, Colorado 81210, USA
Address: Last Dollar Road, Last Dollar Rd, Telluride, CO, USA
Address: Trail Ridge Rd, Grand Lake, CO, USA
Address: Shrine Pass, Colorado 81649, USA
Address: Peak to Peak Hwy, Nederland, CO, USA
Address: Collegiate Peaks, Colorado 81211, USA
Address: Guanella Pass, Colorado 80435, USA
Address: Highway 550, US-550, Durango, CO, USA
Address: San Juan Mountains, Colorado 81235, USA
Scenic Roads in Colorado
June 15, 2020
What are the best road trips through Colorado?
Colorado is a state that's tailor-made for road trips. In addition to the scenic roads in Colorado we've outlined above, there are many others that you might be interested in checking out. Some of these include the Poudre River Canyon near Fort Collins, Dinosaur Diamond Scenic Byway near the border of Utah, Flat Tops Trail Scenic Byway, and Gold Belt Tour Scenic Byway. If you're looking for themed road trips, you might want to check out this road trip to some of Colorado's most spectacular waterfalls.
What places in Colorado should I see before I die?
Putting together a Colorado bucket list of all the places you want to see before you die can be a rewarding activity, as it provides the perfect excuse to experience some of the state's most epic attractions. Included on this list might be Lizard Lake, Pawnee Buttes, Canyons of the Ancients National Monument, Red Rocks Amphitheater, Dillon Ice Castles, the Sand Dunes, and Mesa Verde National Park. Of course, this list only scratches the surface of all the unique things to do in Colorado.
What are the best outdoor activities in Colorado?
The outdoor activity that you choose to enjoy in Colorado might largely depend on the season you visit. Exploring Colorado in the winter, for example, often means buying a ski pass and enjoying Colorado's world-famous slopes such as Aspen and Vail. If you visit during the more temperate months, you may want to take advantage of the abundance of hiking trails. With over 17,000 unique trails to explore in the state, you won't find any shortage of scenery. Other activities include mountain climbing, biking, horseback riding, fishing, boating, and more.
Address: Independence Pass, Colorado 81210, USA
Address: Last Dollar Road, Last Dollar Rd, Telluride, CO, USA
Address: Trail Ridge Rd, Grand Lake, CO, USA
Address: Shrine Pass, Colorado 81649, USA
Address: Peak to Peak Hwy, Nederland, CO, USA
Address: Collegiate Peaks, Colorado 81211, USA
Address: Guanella Pass, Colorado 80435, USA
Address: Highway 550, US-550, Durango, CO, USA
Address: San Juan Mountains, Colorado 81235, USA