Step Inside The Creepy, Abandoned Town Of Dearfield In Colorado
If there is one thing that Colorado has its fair share of (aside from beautiful scenery, good people, and unique activities, of course), it is ghost towns. While Colorado has a population of nearly 5.5 million folks living in prosperous areas, there is still a fair share of abandoned and historic spots, including the town of Dearfield. While the abandoned Dearfield isn't haunted per se (no reported ghosts here, folks!), there is still a sense of eeriness in the town, due in part to its few remaining buildings. Some would even consider it the creepiest abandoned town in Colorado!
Located 30 miles east of Greeley, Dearfield was established in 1910 by Oliver T. Jackson, a Boulder businessman who dreamed of creating a colony for black folks who lived there at the time. Despite poor agricultural conditions, the town boomed, housing more than 700 residents by 1921. Unfortunately, like much of the country, Dearfield suffered during the Great Depression, resulting in a population of only 12 by 1940.
See for yourself what remains today of the once-thriving Dearfield: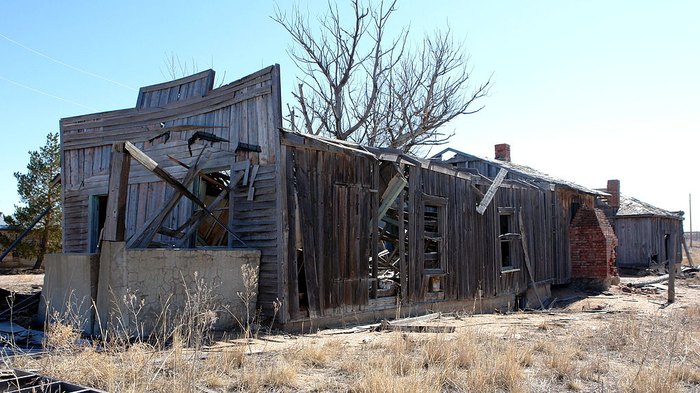 Hauntingly beautiful, right? Have you seen this historic area for yourself? Does it seem like the creepiest abandoned town in Colorado? Share your thoughts with us in the comments! If you've got a creepy old town you'd like to see us cover someday, tell us about it by filling out this form. We love to hear from you, and heck, you never know – you might just see your idea featured someday!
Experience even more chilling abandoned locations by taking this Road Trip To Colorado's Most Abandoned Places.
OnlyInYourState may earn compensation through affiliate links in this article.
Address: Dearfield, CO 80644, USA
The Creepiest Abandoned Town In Colorado
September 22, 2019
What other abandoned places are there in Colorado?
Most visitors come to The Centennial State in search of gorgeous landscapes, epic skiing, and unrivaled hiking experiences. Some brave visitors set out to find the scariest places in Colorado, and they often set their sights on the state's most abandoned places. Some of our communities hide abandoned factories, and in our more rural towns you might find an old fashioned mill or two. While our cities may appear to be bustling, we have our own fair share of forgotten and crumbling buildings… ask around and you just may be surprised at the local legends that you encounter.
Are there any hiking trails to abandoned places in Colorado?
If you've ever considered visiting abandoned places in Colorado, you should consider doing so via hike. A walk to the local abandoned power plant is always pleasant, or you could walk along the remnants of an old railroad route. You can even hike to an old ghost town if you're craving an excursion that you can brag about for months to come.
What ghost towns can you find in Colorado?
As you've probably imagined, there are a number of stunning ghost towns in Colorado. Each has its own particular flair, each of which is worth researching depending on what it is you are looking for in your adventure. Gilman has been deemed unsafe to live in and was hastily abandoned, and thus may not be the best destination for a day trip. Gothic, on the other hand, was once a ghost town but has since been converted into a biological laboratory. While places such as these may not be ideal for visitation, there are enough ghost towns in Colorado to fill up an unforgettable road trip.