21 Epic Train Rides That Show Off Some Of America's Prettiest Landscapes
Ferris Bueller said it best: "Life moves pretty fast. If you don't stop and look around once in a while, you could miss it." This unexpected nugget of wisdom from a high schooler really captures what our Bucket List articles try to do; that is, show you some of the most incredible places across the country that are just waiting to be explored and enjoyed. And in terms of stopping and looking around, well, there's perhaps no better way to do that than aboard one of the best train rides in the USA.
There's something inherently charming and magical about a train ride across America; sitting back while the world passes by, feeling the solid wood booths beneath you, with the chug of the locomotive and passenger chatter humming in the background. The following best train excursions in the USA show off America's most sweeping and scenic landscapes, offering once-in-a-lifetime experiences you'll never forget.
Scenic Train Rides Across America
We all know that the journey *is* the destination and trains provide the rare opportunity to sit back, relax, and truly enjoy the ride! There are so many wondrous places that make up America the Beautiful, and these scenic train rides across the USA highlight some of the country's finest features: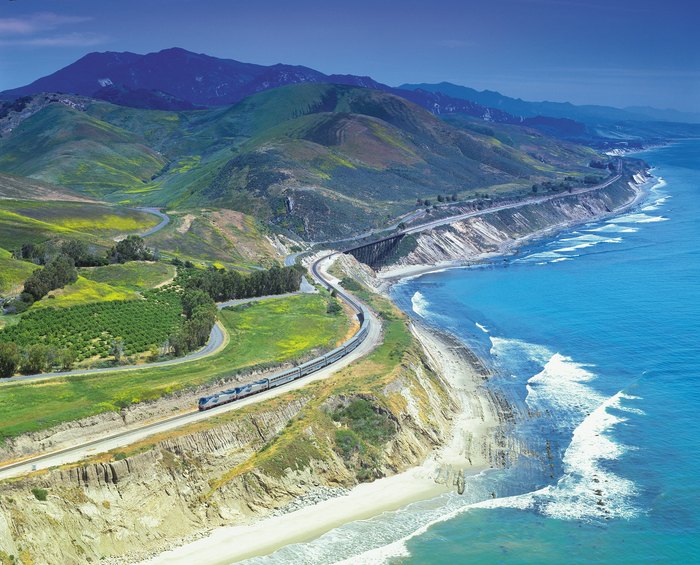 Luxury Train Rides Across America
Once upon a time, folks dressed up and made travel a classy affair befitting of the classy modes of transport. For those looking to "enjoy the ride" in the height of luxury, these well-appointed locomotives offer that — and then some! Sit back and enjoy the scenery on these luxury train rides across America.
Cheap Train Rides Across America
Travel can be quite a costly endeavor, and one of the great things about trains is how accessible — and affordable — they can be. While you can certainly enjoy a high-rolling ride in the height of luxury (see above!), there are lots of cheap train rides across America that are no less bucket-list worthy.
Amtrak Train Rides Across America
The National Railroad Passenger Corporation, AKA Amtrak, is the national passenger railroad company of the United States. It operates inter-city rail service in 46 of the 48 contiguous U.S. states and three Canadian provinces, opening up this wide and wonderful country of ours for exploration — and enjoyment.
Sometimes the journey really is just as important as the destination. Such is the case for passengers who step aboard these superlative trains. Climb aboard and get ready for one of these epic train rides across America the Beautiful.
For more stunning scenic adventures in the U.S., these charming small towns are some of the best and brightest, offering visitors beauty, history, and experiences that will undoubtedly further your love for our great country. And for more ways to discover the good ole USA, you can never go wrong with looking at Airbnb Experiences.
OnlyInYourState may earn compensation through affiliate links in this article. As an Amazon Associate, we earn from qualifying purchases.
More to Explore
Best Train Rides in USA
What is the best train ride in the USA?
After you've tackled the above train rides across America, you'll want to check out these three award-winning locomotives in Colorado, which are definitely among the best train rides in the USA:
Cumbres & Toltec Scenic Railroad. One of the most authentic steam-operated railroads in existence, the Cumbres & Toltec Scenic Railroad runs for 64 miles between Chama, New Mexico, and Antonito, Colorado, passing through the San Juan Mountains and the scenic Conejos Valley along the way. It's an immensely scenic train route and definitely one of the best rides in the USA
Durango & Silverton Narrow Gauge Railroad. This small heritage railroad operates on 45.2 mi of track between Durango and Silverton and is a family favorite.
Broadmoor Manitou and Pikes Peak Cog Railway. The Broadmoor Manitou and Pikes Peak Cog Railway is a cog railway that climbs one of the most iconic mountains in the United States, Pikes Peak in Colorado.
For some swoon-worthy rides in the Mid-Atlantic, look no further than North Carolina, where taking the 'scenic route' is always the best option. Between North Carolina's picturesque mountains, rolling hills and valleys, and babbling streams and rivers, the best way to enjoy the views is to go the old-fashioned route — and take a train. No matter the season, these five scenic train rides in North Carolina will leave you in awe of the unparalleled beauty of the Tar Heel State:
Nantahala Gorge Excursion is an immensely scenic route which you'll find listed above.
The Triangle Train excursion offered by New Hope Valley Railway is another fan favorite. Located

 30 minutes outside of Raleigh, you can have an authentic historic experience aboard this open-air train. The New Hope Valley Railway offers excursion rides on vintage equipment at the North Carolina Railway Museum. It's one of the best train trips in North Carolina. The railway also hosts seasonal events like Halloween and Santa Trains. After your ride, be sure to stop by the North Carolina Railway Museum for more locomotive-themed fun!
Can you take a train ride across America?
You can! Amtrak has some seriously scenic cross-country routes that transport travelers through vast, varied landscapes, small towns, bustling metropolises, jaw-dropping scenery, national parks, and the most exciting stopping points across America.
Related Articles